In a shocking revelation in the Doctor Who Series 12 second episode Spyfall: Part 2 the Doctor returned to her home planet Gallifrey to find it in ruins with the entire population dead.
The dejected Doctor returned to her TARDIS to receive a geo-activated message from the Master, who claimed responsibility for the destruction.
"If you are seeing this, you've been to Gallifrey. When I said someone did that, obviously I meant I did. I had to make them pay for what I discovered. They lied to us – the founding fathers of Gallifrey. Everything they told us was a lie. We're not who we think, you or I, the whole existence of our species built on the lie of the Timeless Child. Do you see it? It's buried deep in all our memories and our identity. I'd tell you more but… But why would I make it easy for you? It wasn't for me."
The Master's message invokes the image of a mysterious child deep in the Doctor's memory. Is this the Timeless Child?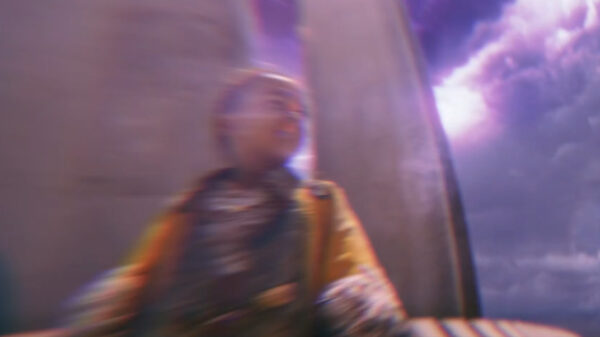 Jodie Whittaker, Mandip Gill and Tosin Cole participated in a panel interview at the Paley Center in New York City on January 5 moderated by Terri Schwartz after a screening of Spyfall: Parts 1 and 2. This panel was streamed live to movie theaters across the USA. I attended one of the screenings and can exclusively report what Jodie Whittaker said in the panel.
Schwartz asked Whittaker how much focus will be on the mystery of the Timeless Child in Series 12 and her answer was interesting.
"I think the beauty of [showrunner] Chris [Chibnall's] writing is that nothing is an accident so these things that maybe feel as if they were in an episode (2) of Season 11 and then forgotten about – weren't and I think you don't necessarily always rush to get the answer. So it's not to say that you won't discover something but it's not – you're not going to be denied, but… The beauty of this show is that it goes on and on and on and also maybe some things, a few, are answered and maybe some things aren't and I think that's why you've got to keep watching."
Later in the interview, Whittaker spoke further of Chris Chibnall's plans.
"So, for him, all this has been plotted out. He has wanted to write this since he was a kid so the choice of when and how – it isn't a manic decision…"
Jodie Whittaker told BBC Radio 2 presenter Dermot O'Leary that she begins filming Series 13 of Doctor Who in 2020. Based on what she said at the Paley Center panel, we will likely have to wait until Series 13 at the earliest to learn the conclusion of the Timeless Child mystery first mentioned in Series 11.
At this point, it is unknown if a bit more of the mystery will be revealed in Doctor Who Series 12.
We will continue to bring you news of Doctor Who Series 12 as we learn more.