Meet Kamala Khan aka Ms Marvel – possibly the MCU's most relatable superhero yet. 
Ahead of its June launch, Marvel have dropped an engaging trailer for their upcoming Ms Marvel series.
Set in the terrifying world of an American High School, it introduces us to teenage dreamer Kamala Khan (Iman Vellani), her aspirations and preoccupations.
Straight off the bat, we feel compelled to say that this series is doubtless aimed at the CultBox Jnr demographic. That said, we found it fun and engaging, akin to Spider-Man's down to Earth feel.
There's a really positive feel to the trailer, with here preoccupations being realistic – her culture, superheroes and boys. A great choice of music too, using The Weeknd's "Blinding Lights".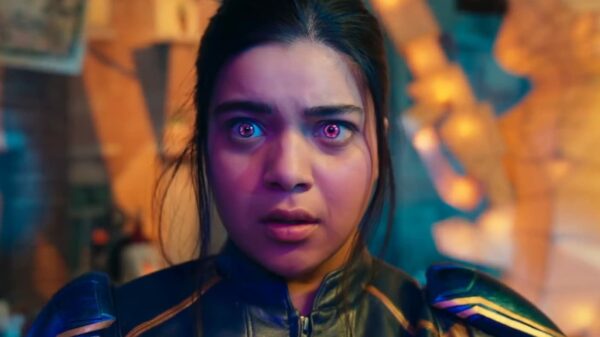 She enjoys a diverse set of powers too, from making shields and giant fists to forming steps in the air. We're looking forward to seeing them in action! If you're interested in a full breakdown, there's a great breakdown feature by Delia Harrington over at Den of Geek.
Joining Iman Vellani in the cast are with Aramis Knight, Saagar Shaikh, Rish Shah, Zenobia Shroff, Mohan Kapur and Matt Lintz (The Walking Dead). The show is a six-episode series, from creator Bisha K. Ali who serves as head writer.
'The future is in her hands'
The Marvel Cinematic Universe is now pushing fifteen years old, easily at the point where it can legitimately introduce characters who are a 'second generation' of superhero culture. Hawkeye's Kate Bishop is one and Kamala Khan is another, both idolising an Avenger and taking inspiration from their exploits.
The Marvels
After her introduction in this series, Kamala Khan takes her place alongside one of her heroes. She's joining Brie Larson's Captain Marvel and Teyonah Parris as Monica Rambeau (Wandavision) for the upcoming MCU movie The Marvels.
Effectively Captain Marvel 2, the film comes from writer Megan McDonnell and director Nia DaCosta. However. it's still a way off and not due to land until February 2023.
Ms Marvel, on the other hand, begins on Disney+ on Wednesday, the 8th of June, 2022.