Marvel has indisputably dominated the movie industry for the past decade and with the next few years of the Marvel Cinematic Universe already mapped out, there seems to be no signs of it slowing down.
Marvel's TV productions – though popular – haven't managed the same level of success. Netflix might have hit the ground running with Daredevil, but Agents of S.H.I.E.L.D. has been on a roller-coaster ride of losing hype, recapturing it and then losing it again.
It looked like Agent Carter would head the same way when it was only broadcast on American TV screens at the beginning of 2015, but thankfully it's now found a home on UK TV over at Fox.
Agent Carter successfully manages to be both tremendously fun and full of tension. It's dark enough to keep you gripped, but with a sense of fun and humour that Daredevil lacked. The story isn't anywhere near as bloated as Agents of S.H.I.E.L.D. and it's a benefit that in the first episode there are only a handful of characters to be introduced.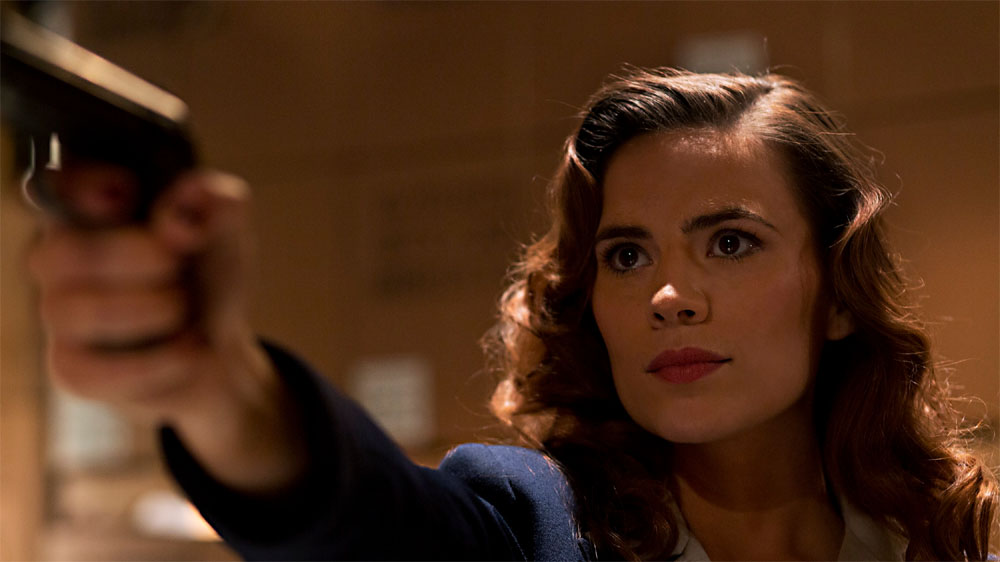 The show begins with a flashback to the tragic events of Captain America: The First Avenger, then it's over to New York in 1946 where we find a frustrated Peggy (Hayley Atwell) who has gone from being an influential force in WW2 victory to being treated like a tea-lady by her male colleagues at SSR – a top secret government agency.
Then in comes Howard Stark (Dominic Cooper), who has tracked down Peggy, in the hope of convincing her to help him clear his name when some of his most dangerous inventions get stolen and put on the black market.
What follows is a wildly enjoyable, tense and dangerous adventure as Carter dons disguises, throws killers out of a window and diffuses bombs. It's a rip-roaring ride that's first and foremost just a damn good story that's not hung up on 'creating a universe.' (That said, there is plenty here to keep Marvel addicts satisfied!)
The most important thing is that while everyone is complaining about the lack of a female-led Marvel movie, here is an agent that is as deadly as any of the foes she's fighting; just as smart and savvy as Banner and Stark.
Atwell is an absolute revelation in a role that you couldn't imagine anyone else doing. She simply is Peggy Carter; a character who pulls off being the 'girl-next-door' working in a world of superheroes and espionage, all whilst being nothing like any other heroine in pop culture.
When asked to describe the show, Atwell called it "an action-packed adventure" and she wasn't wrong.

Aired at 9pm on Sunday 12 July 2015 on Fox.
> Follow Jon Hornbuckle on Twitter.
What did you think of Agent Carter? Let us know below…