Halloween's Guy Forks was only the first of three visits to Scatterbrook Farm this year. 
With a four-day Christmas holiday and an extended New Year, the holidays are long this year. While The Book of Boba Fett drops on the 29th, it's a hike until the Eve of the Daleks on New Year's Day.
Fear not though, as Worzel Gummidge is here with a double dose of Scatterbrook sunshine to restore some family harmony. While we've already enjoyed Guy Forks this year, the two further specials are titled Twitchers and Calliope Jane.
Susan (India Brown), John (Thierry Wickens), Mr Braithwaite (Steve Pemberton) and Mrs Braithwaite (Rosie Cavaliero) all return for these installments. Mackenzie Crook plays the title role, as well as writing and directing.
Twitchers
After a raging thunderstorm, a flock of rare choughs turn up at Scatterbrook Farm. Keen to seize the opportunity of scaring such a rarely sighted bird, Worzel enlists the help of Susan and John. But their plans are soon scuppered once word of the choughs gets around and a group of avid twitchers move in before he's even had his chance. To make matters worse, the twitchers' arrival forces Mr B to come to face to face with his old birdwatching rival, Lee Dangerman. With the twitchers refusing to leave, can the children come up with a plan to help scare the choughs and save Worzel and Mr B from embarrassment?
Aaron Neil will star in Twitchers as Lee Dangerman.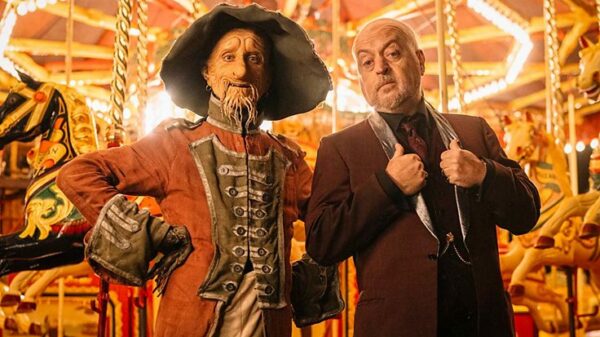 Calliope Jane
Susan and John are excited when they learn that F R Peregrine's Travelling Fair is coming to Scatterbrook for one night only. But as much as he'd love to join his friends, Worzel can't be seen wandering around by humans. He recalls the legend of a fairground with an enchanted organ. It's believed that, with the right music, the organ has the power to send humans to sleep so that scarecrows can enjoy the rides without the fear of being seen.
At the museum, Aunt Sally finds herself agreeing to go on an adventure with another ex-fairground attraction, Calliope Jane, and it turns out Worzel isn't the only scarecrow who wants to attend the fair… As the scarecrows descend the risk of being seen intensifies, but will the legend of the enchanted organ turn out to be true?
Calliope Jane sees the return of Vicki Pepperdine's Aunt Sally, as well as Bill Bailey as Mr Peregrine and Nneka Okoye as Calliope Jane.
Worzel Gummidge is produced by Matt Carver for Leopard Pictures. Mackenzie Crook executive produces, along with Kristian Smith and Lisa Thomas.
The two new episodes air on BBC One at 7.15 pm on Tuesday 28th and Wednesday 29th December 2021. All four previous stories remain on BBC iPlayer too.