A brief synopsis, casting information, a trailer and some photos were released for Doctor Who New Year's special titled Eve of the Daleks, a Doctor Who New Year's Day special written by Chris Chibnall and directed by Annetta Laufer.
"We're stuck in a time loop with killer robots."

"Anyone else got a proper déjà vu?"

Composite synopsis:
Sarah (Aisling Bea) owns and runs ELF STORAGE and is working at the facility – again, on New Year's Eve. Nick (Adjani Salmon), her only customer, has an odd habit of turning up in the last few minutes of New Year's Eve every year, desperate to put something in storage – much to the annoyance of Sarah. Same old same old. Except this year, their countdown to midnight will be the strangest and deadliest they have ever known. Why is an executioner Dalek targeting these two people, in this place, on this night? Why must they keep living through the same moments again? Trapped in ELF STORAGE and stuck in a terrifying time loop in a fight against Daleks, they find themselves joining forces with the Doctor (Jodie Whittaker), Dan (John Bishop) and Yaz (Mandip Gill) when the Flux-damaged TARDIS arrives at the storage facility. Will the gang manage to avoid extermination and escape in time to see out New Year's Day?
On first impression from the trailer, Eve of the Daleks appears to borrow a similar plot from the movie Groundhog Day, with the characters stuck in a time loop, returning when and where they first entered ELF STORAGE every time they are exterminated by Daleks. A badly damaged TARDIS may be responsible for the time loop.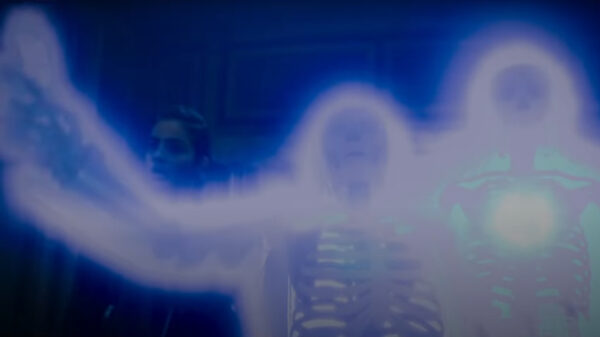 There are plenty of typical Doctor Who scenarios in the trailer, such as running down corridors, peering around a corner and Daleks shouting "Exterminate!" There are many shots of a multi-barrelled Dalek ray gun.
Showrunner Chris Chibnall said:
"We all need a little romance in our lives around New Year. Less so, Daleks. But Aisling Bea and Adjani Salmon's characters will have to deal with both in a New Year's Eve from hell. Together with Jodie Whittaker's Doctor, it'll hopefully prove the perfect New Year's Day tonic."
As Chris Chibnall hints, the peril of New Year's Eve undoubtedly sees Nick and Sarah become closer, apparently with Nick initially more keen than Sarah.

Shot mostly at the historic A Bond Warehouse in Bristol, the bulk the action seems to take place inside the storage facility.

Pauline McLynn, who doesn't appear in the trailer, plays a character named Mary in Eve of the Daleks.
Aisling Bea shared some behind-the-scenes photo from the filming.

Director Annetta Laufer (centre) is in one of her photos.

John Bishop also shared photos from filming.
View this post on Instagram
And Adjani Salmon shared some photos. If you scroll through them, you will see him with Aisling Bea in a decidedly greener setting plus a photo with his stunt double.
View this post on Instagram
View this post on Instagram
Eve of the Daleks premiere New Year's Day 2022 on BBC One at 7:00pm BT and on BBC America at 2:00pm and 8:00pm ET.