When do the new episodes in this six-part drama air? Take a look at the times and synopses here… 
Kat & Alfie: Redwater tells the story of Kat (now Kathleen) Moon's search for her long-lost son. Having morphed from a standard 'week away' soap sub-plot into a fully fledged series of it's own, it transports Jessie Wallace's Kathleen and Shane Richie's Alfie across the sea to Redwater, Ireland (real location: Dunmore East, near Waterford). It promises to fill-in the storylines of two characters last seen in the Square in January 2016, while opening up "a whole new world of secrets and lies."
Here's the trailer…
And here's what we know about series…
Episode 1 (18th May at 8pm)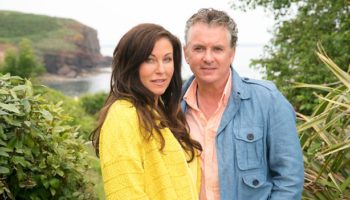 Kathleen, Alfie, and Tommy arrive in Redwater, where celebrations are in full flow for a lively annual fundraiser, that pitches them into the heart of the community.
Despite promising Alfie that she will keep a low profile Kathleen can't rest, and is already on the hunt for her son. Andrew (Peter Campion), son of Roisin (Maria Doyle Kennedy) and Padraig (Stephen Hogan) and wife of local Garda Bernie (Susan Ateh) seems the perfect fit. Could she have found him so soon?
Alfie urges caution and not to get her hopes up. But this is Kat Slater, not known for caution, and the inhabitants tongues start wagging and conspiracy theories form, as they wonder if The Moons really are visiting just for a holiday…
As the celebrations spill into the local pub, Kathleen finds an ally in Lance (Ian McElhinney). He's been in Redwater forever, seems to know everyone and everything. Life and soul of the party Kathleen is in danger of exposing her identity and her secret.
As Kathleen relentlessly pursues her quest for confirmation that Andrew is her long-lost son, she ruffles feathers with Andrew's mother Roisin at their family farm, further fuelling the rumour mill – until Agnes intercepts and sends Kathleen politely on her way. Alfie once again has to play peacekeeper, pulling Kathleen into line and making peace with the locals, allowing the dust to settle.
Distracted by her quest, Kat fails to notice that Alfie is hiding his failing health from her.
Episode 2 (25th May at 8pm)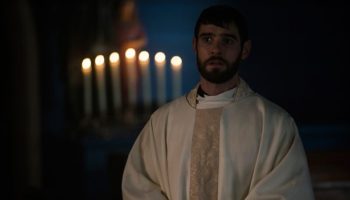 The village is in shock after the sudden death of one of their own.
Eileen (Angeline Ball), is back from the States after a 20 year absence, with her son Kieran (Ian Toner). While Lance's older daughter Roisin (Maria Doyle Kennedy) is less than keen to catch up with her estranged sister, Kieran is keen to catch up with his childhood friends Dermott (Oisin Stack) and Andrew (Peter Campion).
Families and friends are reunited after 20 years, but as much as this is a celebration, old tensions rise to the surface.
At the holiday cottage, Alfie (Shane Ritchie) tries to persuade Kathleen (Jessie Wallace) not to go to the wake. She decides to go along regardless, but will her meddling lead to confirmation that Andrew is her son or will she put her position in the village in jeopardy?
After the funeral, at the reading of the will, another surprise lays in store from beyond the grave.
Kathleen and Alfie are also in for a shock. Searching for Tommy (Henry Proctor) who has gone missing, they arrive at the church with Agnes. Relieved to find Tommy is safe, they are staggered to hear what he has learnt…
Episode 3 (1st June at 8pm – provisional)
Agnes organises a memorial BBQ. Family tensions rise as Eileen realises how much she and Keiran have missed by moving to the US. Should she stay in Ireland, and how will this affect life on Bryne Farm?
Episode 4 (8th June at 8pm)
More info as we get it…
Episode 5 (15th June at 8pm – provisional)
More info as we get it…
Episode 6 (22nd June at 8pm – provisional)
More info as we get it…