It was a bittersweet Christmas when we bid farewell to the Eleventh Doctor.
Like Ten before him, Eleven chose to make his Doctor Who exit over the holidays in 2013's 'The Time of the Doctor'.
It's at times grand and ridiculous and features a Doctor who is at times bald and nude. It's also the first and the last episode so far to feature one of the Doctor's most memorable and technically longest-serving companions, a disembodied Cyberman head named Handles.
Turns out that Trenzalore wasn't always the stormy grave place we saw in 'The Name of the Doctor' and once had a town so Christmassy that it's actually called Christmas. It's also under constant siege by basically everyone evil, so that's jolly good fun.
Meanwhile, Clara attempts some semblance of a normal Christmas dinner with her strangely unconvincing family (we never do find out what that story about the pigeon in the restaurant was!), but she really ought to just order in a pre-roasted bird next time.
The Doctor defends the heck out of the Christmas town for a very long time, and just before he's about to die for the very last time, Clara talks to the silly old fusspots on Gallifrey through a crack in the universe and scores the Doctor an extra round of lives.
But for everything that makes it a bit silly and over-ambitious (it really needed more than 60 minutes to truly sell how long the Doctor is meant to have spent guarding Trenzalore), it ends so perfectly and so beautifully.
Just before fading into the radiant light of regeneration, the Doctor has a vision of his best friend Amy, who bids him an emotional goodnight. Plus, their respective wigs look fabulous.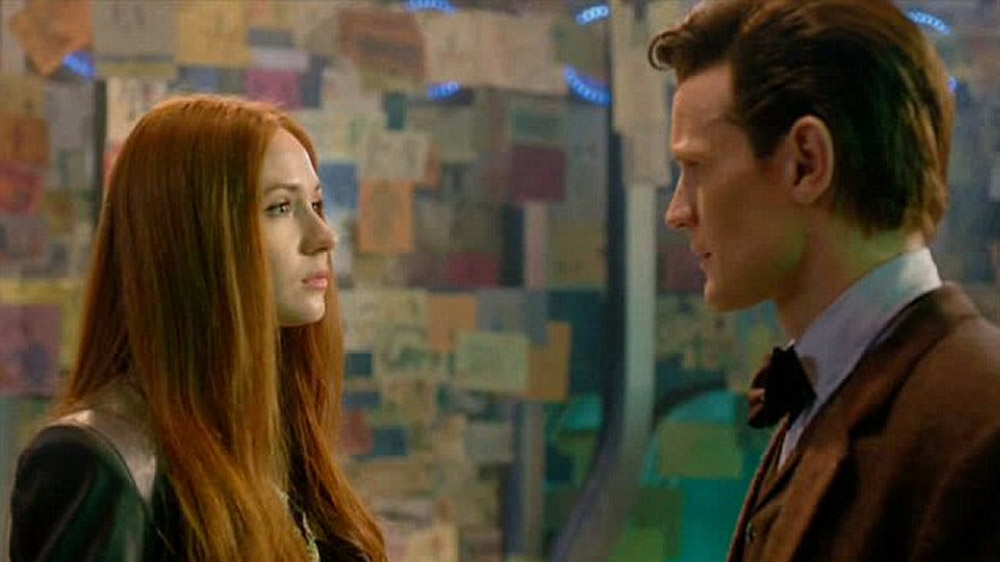 And then, just as you think he's about to regenerate in a minute or two of golden glow and a swell of emotional music, there's a big ol' sneeze and suddenly it's Capaldi!
There then follows what I can confidently say is the very best scene of the episode, which left me in no doubt whatsoever about how very much I was going to love Twelve.
That's how it's done, ladies and gentlemen, just like ripping off a plaster.
> Buy the Christmas specials box set on DVD on Amazon.
> Buy the Christmas specials box set on Blu-ray on Amazon.
What's your favourite moment in 'The Time of the Doctor'? Let us know below…