While Torchwood has been off our screens since 2011's Miracle Day, the show has maintained a loyal fan base and was successfully resurrected on audio by Big Finish in September 2015.
To celebrate its tenth anniversary The Torchwood Archive weaves a tale through the history of the organisation, from its Victorian roots to the distant future. To do so, audio series producer James Goss draws on both television characters and those from the two audio series, as well as taking in references to the wider world of BBC books and audios.
Cleverly built around short scenes, vignettes captured with as many of the show's alumni they could get hold of, the tale surrounds the fate of the eponymous archive – a repository of all the alien knowledge the organisation has accumulated over the centuries.
Located on a distant asteroid, in the midst of a great war, the archive is visited by Jeremiah Bash Henderson (Richie Campbell) a man on a mission to learn its secrets, particularly those pertaining to the mysterious piece of alien technology dubbed "Object One".
Greeted first by Queen Victoria (Rowena Cooper), Jeremiah is confronted by a series of familiar faces who act as his guides, including Captain Jack, Ianto Jones, Gwen Cooper, Rhys Williams and PC Andy.  As the tale moves Torchwood's history, it unravels the conspiracy surrounding The Committee (at one point memorably voiced by David Warner), the sinister organisation which has been sitting in the background of the audio series as an on-going threat.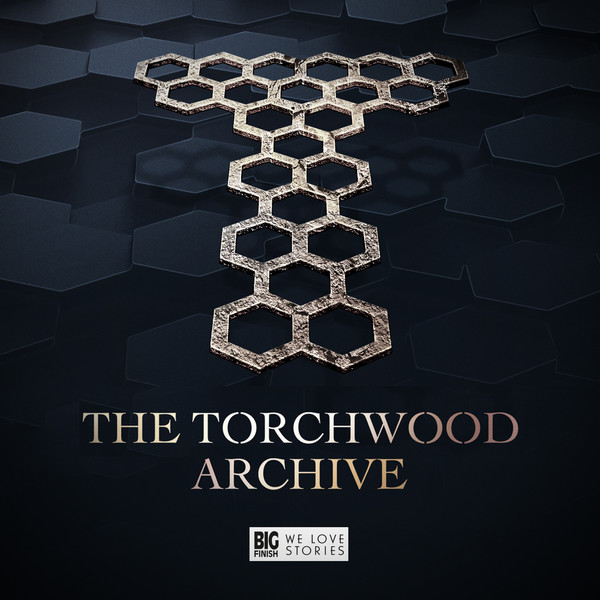 The play's time-hopping narrative offers us the chance to drop in on some interesting moments, and we particularly enjoyed Jack's first discovery of the Weevils and the brief telephone encounter between his devious former second-in-command Susie Costello (Indira Varma) and Torchwood London's pushy boss Yvonne Hartman (Tracy Ann Oberman), hinting at the rivalry between divisions.
Thrillingly, it also revisited the eve of the millennium for some further perspective on Alex Hopkins (Julian Lewis Jones), the haunted leader of Torchwood Cardiff who memorably killed himself and his whole team, save for the immortal Jack, in fear of what was to come.
In what must have been a giant jigsaw puzzle in terms of construction, and party hats off to both Goss and director Scott Handcock for their achievement, this anniversary release manages the ambitious feat of celebrating the whole concept of Torchwood; fusing some of the programme's disparate parts together and rewarding the regular listener with a plethora of nods to the past – as well as a hint or two of tales still to come.
The Torchwood Archive is by turns shocking, funny, clever and a little bit cheeky – just as all the best Torchwood stories have always been..
Anniversary celebrations continue with November's full cast three-part tale Outbreak and then January's Torchwood One: Before the Fall.

Released on 21 October 2016 by Big Finish.
Follow Ian McArdell on Twitter here.
What did you think of The Torchwood Archive? Let us know below…