Written by and starring The Inbetweeners alumni Simon Bird and Joe Thomas, with Jonny Sweet, the first full series of Chickens arrives following a pilot on Channel 4 in 2011.
Don't let Channel 4's rejection put you off though – Sky1's recent six-part series is rather witty, although patchy. Episodes 2 and 5 build to a fever pitch, a constant stream of laughs, whereas the other episodes are temporarily diverting at best, the jokes forgettable and inconsistent. The potential is obviously there, but the plotting doesn't deliver a satisfying conclusion more often than not.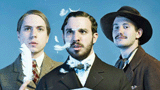 Jonny Sweet's Bert combines the lothario and dim-witted staples to be the main source of laughs, though is occasionally crass and irritating. While playing older characters than previous, Bird and Thomas (as Cecil and George) do feel like they are reprising their Inbetweeners roles to a large extent; Bird prickly and arrogant, making observational asides mid-conversation and Thomas again playing a spineless but good-natured sort who really ought to know better.
It is funny watching Bird in full flow, pent-up aggression bursting forth, but he needs deeper holes to extricate himself from. With Inbetweeners director Ben Palmer on board, perhaps it's no surprise that its stylistically reminiscent of that show.
The supporting cast are strong, but of the women in the village only two are more than broadly sketched (Sarah Daykin's Winky – fiancée to George – and Emerald Fennell's Agnes – Cecil's sister) and it feels like a lost opportunity not to spend more time with them. The bonus featurette on the women of the village makes it clear that there's a lot of enthusiasm from the cast, and scope for expansion beyond the three male leads.
There are a few cameo appearances – most notably from Barry Humphries as head teacher Mr Armstrong and Sally Philips as the village leper – but unfortunately taken as a whole the first series of Chickens can at best be described as promising.

Extras: Bonus content includes a commentary on Episode 2, out-takes, features on the supporting characters (more Barry Humphries can only be a good thing) and some promotional behind-the-scenes footage. The commentary is from academics Dan Todman and Peter Hart, and rather than cast any light on the production or writing it lists the many factual inaccuracies involved. It's an informative natter, though, self-aware and far from dry.
The out-takes feature a lot of bleeped-swearing and people laughing at other people laughing. The promos are perfunctory conglomerates of talking heads talking about what the show is (which we know, having bought the DVD and watched it) and how delightful it was to work on.

Released on DVD on Monday 30 September 2013 by BBC Worldwide.
What did you think of Chickens? Let us know below…