The Bristol based animation studio are returning to a pair of favourites. 
Aardman have released details of the voice cast for their upcoming Chicken Run sequel. The original, released twenty-two years ago and inspired by The Great Escape, is considered a stone cold classic here at CultBox Towers.
Chicken Run was a collaboration with Dreamworks and stared Mel Gibson, Julia Sawalha and a heck of a lot of clay. The sequel, Chicken Run: Dawn of the Nugget, is being made for Netflix. Here's the blurb:
Directed by Sam Fell, the new film sees Ginger and all the chickens living the dream in their peaceful island sanctuary, far from the dangers of the human world. When she and Rocky hatch a little girl called Molly, Ginger's happy ending seems complete. But back on the mainland the whole of chicken-kind faces a new and terrible threat. For Ginger and her team – even if it means putting their own hard-won freedom at risk – this time, they're breaking in!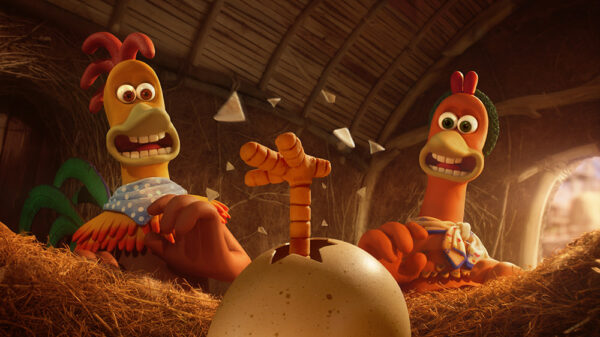 Neither Gibson or Sawalha are returning for the sequel, to some consternation, and there's a new principal cast; Thandiwe Newton plays Ginger, Zachary Levi is Rocky and Bella Ramsey (Game of Thrones, The Last of Us) will voice Molly.
There are returnees though – Jane Horrocks (Babs), Imelda Staunton (Bunty) and Lynn Ferguson (Mac). Joining the brood are Josie Sedgwick-Davies (Frizzle), David Bradley (Fowler), Romesh Ranganathan (Nick), Daniel Mays (Fetcher) and Nick Mohammed (Dr Fry).
Chicken Run: Dawn of the Nugget is scheduled to land on Netflix in 2023. Whether there's a theatrical release on the cards too – who knows?
Wallace & Gromit
Aardman also announced another outing for perennial favourites Wallace & Gromit. Quiet on the feature front since 2008's A Matter of Loaf and Death in 2008, the pair will return to celebrate Christmas 2024 on the BBC.
The 'as yet untitled' film will be directed by their creator Nick Park and Merlin Crossingham and we're told that "…the film sees Gromit becoming concerned that Wallace is a little too dependent on his inventions. When Wallace's "Smart Gnome" develops a mind of its own, it falls to Gromit to battle sinister forces and save his master…or Wallace may never be able to invent again!"
This will be the first Wallace & Gromit adventure since A Grand Day Out without the creative talents of writer Bob Baker, who passed away in 2021. On this occasion, Nick Park has collaborated on the story with Mark Burton, co-writer of the big screen adventure The Curse of the Were-Rabbit. Burton has written the screenplay and the film's producer is Claire Jennings (The Curse Of The Were-Rabbit, Coraline).
The new Wallace & Gromit film will premiere on the BBC in the UK and on Netflix elsewhere. With such a long lead time, we'll be listening out for news on both projects and, of course, we'll keep you posted.