The series will see Sacha Dhawan reprise his villainous Time Lord on audio. 
As well as the massive Big Finish Day announcement that Jo Martin will be starring in her own Fugitive Doctor series, a certain other time traveller has some news to share…
The prolific audio producers have signed up Sacha Dhawan to reprise his manic Jodie Whittaker-era incarnation of the Master for two new boxsets of adventures.
Speaking of his upcoming adventures, Sacha Dhawan said:
"I absolutely adore working with the fantastic team at Big Finish. So, when they asked me to play the Master in his own series, it was an offer I couldn't refuse!  
"The Master is such a joy to play on so many levels! I can't wait to see what he's going to be getting up to without the Doctor around to hold him back! Hold onto your seats, folks…!"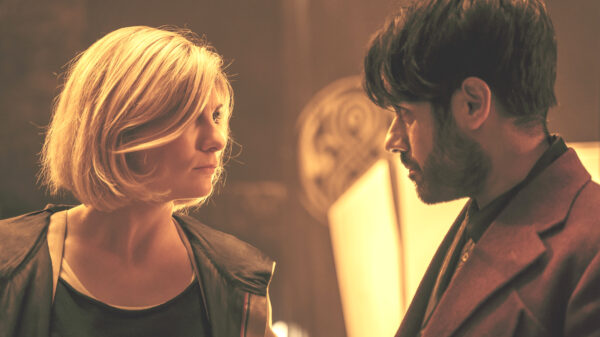 As Big Finish Chairman, Jason Haigh-Ellery notes: "Sacha Dhawan is already part of the family at Big Finish." The actor has worked with them on various productions since 2014 including Torchwood. He also said:
"Sacha's enthusiasm for the Master knows no bounds – we are so excited to work with him and his rather unhinged alter ego at Big Finish.  It's going to be a hell of a ride!" 
Sacha Dhawan's hyperactive incarnation of the Master first appeared in 2020's Spyfall, before returning for Series 12's two-part finale too – where he destroyed Gallifrey, turned the Time Lords into Cybermen and tried to blow the Doctor's mind with his Timeless Child revelations.
While we've not seen him since, he just popped up in the trailer for the upcoming Doctor Who BBC Centenary Special too.
Call Me Master
The new audio series will initially consist of two boxsets, each containing three hour-long stories. Producer Heather Challands said:
"Sacha's Master was iconic from the moment he revealed himself to the audience. His performance has such charisma, such madness and can turn on a dime.  
"I'm beyond thrilled and honoured to be the producer that gets to bring this incarnation of the Master to Big Finish listeners. It's going to be very fun getting to peel back the layers and find out just what makes this Master tick…" 
You can pre-order both volumes of Call Me Master at the Big Finish website. They will be available as Collector's Edition CDs (with downloads), or as download only boxsets. However, neither has a release date or any story or cast details confirmed as yet.
As ever, we'll keep you posted.