We previously reported that an actress who appeared in The Spanish Princess will appear in Episode 8 of Doctor Who Series 12.
Nadia Parkes will play the role of Claire Clairmont, half sister of Mary Shelly and Lord Byron's mistress.
#DoctorWho casting info: Nadia Parkes plays Claire Clairmont in ep 8 pic.twitter.com/oc4QGTotuE

— Ruther (@Ruther2) January 29, 2020
In the summer of 1816, the famous poet Lord Byron rented Villa Diodati on Lake Geneva. There he met and befriended the poet Percy Bysshe Shelley who was traveling with his future wife Mary Godwin (Mary Shelley). Byron's personal physician, John Polidori, Shelley and Godwin rented a smaller house nearby. The group was also joined by Mary's stepsister, Claire Clairmont, with whom Byron had an affair.
When constant rain kept the five indoors at the villa over three days in June, they amused themselves by reading fantastical stories, including Fantasmagoriana, which inspired them to devise their own tales of horror. It was there Mary Shelley wrote what would become Frankenstein, or The Modern Prometheus.
With Nadia Parkes playing Claire Clairemont, It is very likely that Mary Shelley is played by Lili Miller, pictured in the featured image above, captured from the Doctor Who Series 12 'Coming Soon' trailer, with Tosin Cole and Mandip Gill.
Other known cast members are Maxim Baldry and Jacob Collins-Levy.
It is believed that the Doctor Who filming at Merthyr Mawr Estate in late June and early July of 2019 was arranged to depict the events at Villa Diodati.

There is another visitor to Villa Diodati in Episode 8. This Cyberman filmed at Merthyr Mawr Estate must be the "lone Cyberman" Captain Jack Harkness warned about in Fugitive of the Judoon.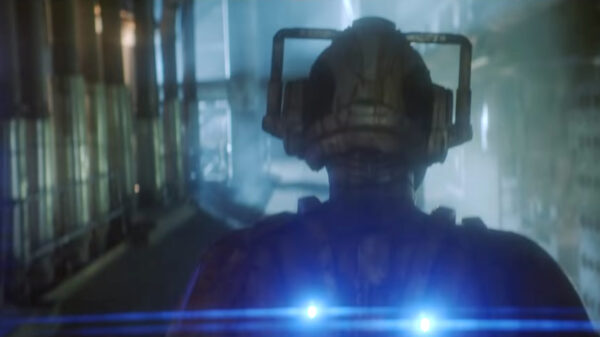 Episode 8 of Doctor Who Series 12, written by Maxine Alderton, will air the evening of February 16 on BBC One and at 8:00 p.m. on BBC America.