The 30 October-5 November issue of Radio Times, includes a more complete cast list for the first of six chapters of Doctor Who: Flux, The Halloween Apocalypse.
On Halloween, all across the universe, terrifying forces are stirring. From the Arctic Circle to deep space, an ancient evil is breaking free. And in present day Liverpool, the life of Dan Lewis is about to change forever. Why is the Doctor on the trail of the fearsome Karvanista? And what is the Flux?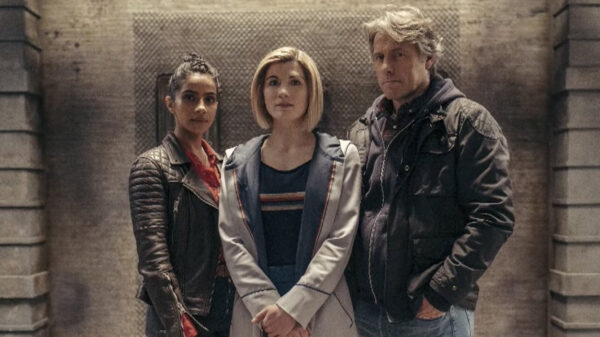 In addition to Jodie Whittaker, Mandip Gill and John Bishop, Jacob Anderson will join the first chapter of Flux as Vinder.
The rest of the cast list is as follows:
Craige Els: Karvanista
Steve Oram: Joseph Williamson (of the Williamson Tunnels in Liverpool)
Nadia Albina: Diane Curtis
Sam Spruell: Swarm
Matthew Needham: Old Swarm
Rochenda Sandall: Anna (Sandall is listed as "Azure" in War of the Sontarans)
Annabel Scholey: Claire
Johnathan Watson: Ritskaw (Watson plays several Sonatarans throughout Flux)
Dan Starkey: Kragar (Starkey will also play multiple Sontarans, as they are a cloned species)
Sarah Amankwah: En Sentac
Charlie Oscar: K-Toscs
Richard Tate: Wilder
Paul Leonard: James Stonehouse (19th century Liverpool historian)
Heather Bleasdale: Wilma
John May: Kev
Gunnar Cauthery: Jón
Kev shows up at Dan's door in this clip, just released.
Joseph Williamson (Steve Oram) and James Stonehouse (Richard Tate)
Dan Lewis (John Bishop) and Diane Curtis (Nadia Albina) on the steps of the Liverpool Metropolitan Catedral
Written by Chris Chibnall and directed by Jamie Magnus Stone, the first chapter of Doctor Who: Flux, The Halloween Apocalypse will will air 31 October on BBC One at 6:25pm BT and on BBC America at 2:25pm and 8pm ET.
Radio Times magazine is available by digital issue now and on newsstands Tuesday, 26 October.