"If you're going to do a spy thriller you want to bring in the gadgets," showrunner Chris Chibnall told Doctor Who Magazine. "[Spyfall] is a story about technology as well. The rise of technology, and our acceptance of technology, is obviously interesting territory for Doctor Who. Technology is outpacing us all at the moment, more so than ever before. I'm not sure we're all aware of what our technology can do, even though we're all happily wearing it."
Sir Lenny Henry further explained his Spyfall character, Daniel Barton's relationship to technology when he was a guest on the Lauren Laverne show on BBC Radio 6 on December 11.
"I was asked to do Doctor Who, to play a certain person called Daniel Barton who's a tech genius, think Jeff Bezos or the Google guys. And we don't know what he is, but we know something ain't right about this guy so it's going to be a fantastic Doctor Who on New Year's Day."
So why is the main cast in formal wear?
"We have to blend in at a very posh party, so we all rock up in our finest," Jodie Whittaker told the magazine.

Filming in South Africa was used for about five or six different countries, according to Spyfall, Part 1 director Jamie Stone in Doctor Who Magazine.
Spyfall, Part 1 is described in the magazine as ending in a "jaw-dropping cliff hanger," resolved in Spyfall, Part 2.
"The second episode [Spyfall, Part 2] is no less epic than the first," according to Chris Chibnall, "but events take a darker turn. It's very different in mood and visual and tone. There are many matters of life and death, and there are sinister forces at work across different dimensions."
Spyfall, Part 2 has a different director, Lee Haven Jones. Why a different director?
"It's to do with which episodes we shot in South Africa," Chris Chibnall explains. "The second part of Spyfall has very different locations to the first, so we divided up the [recording] blocks accordingly. It was a logistical thing, but it had a great aesthetic knock-on."
According to Haven Jones, Spyfall, Part 2 was filmed at Howell's School in Llandaff (filming reports say the week of April 15-19) and Tredegar House in Newport (Filming reports confirm April 29 and 30).
In other Series 12 news, the Gallifrey Guardian section of the magazine confirmed that Anjli Mohindra can be spotted in the Doctor Who Series 12 trailer but stopped short of naming her character. According to her online CV, Mohindra is playing Queen Skithra in Episode 4, directed by Nida Manzoor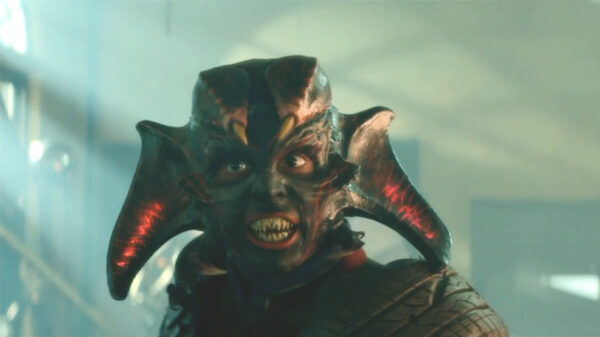 Chris Chibnall also had this to say about Series 12 to Doctor Who Magazine:
"We're going deeper into the past of Doctor Who. We're also going deeper into the present – in terms of the Doctor and her friends – and maybe deeper into the future…"
Doctor Who Magazine 546 is available now in digital format and is advertised to be at newsstands and in subscribers' post boxes on December 12.
We will continue to bring you news of Spyfall and Doctor Who Series 12 as we learn more.