A new publicity photo was released for Around the World in 80 Days, a BBC miniseries co-produced by Slim Film + Television and Federation Entertainment.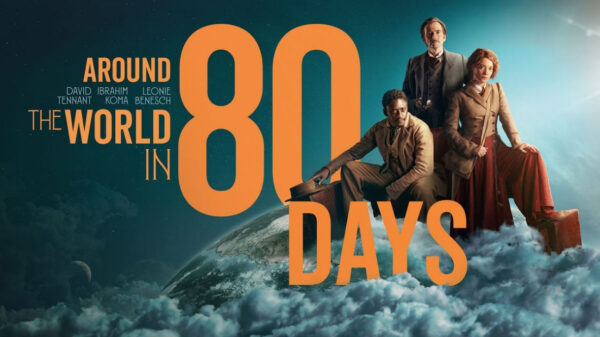 Along with David Tennant as Phileas Fogg, the series stars Ibrahim Koma as sidekick Passepartout and Leonie Benesch as journalist Abigail Fix, who joins the voyage to chronicle the adventure.
This is not Tennant's first television adventure featuring a hot air balloon. His tenth Doctor famously rode a balloon in the Doctor Who Christmas special The Next Doctor.
Developed by Simon Crawford Collins and adapted by renowned writers Ashley Pharoah and Caleb Ranson, the upcoming BBC series based on the classic book is billed as a celebratory 'love letter to the world'.
Around the World in Eighty Days, first published as Le Tour du Monde en 80 Jours in 1873, features the adventures of English gentleman Phileas Fogg and his French butler Passepartout as they attempt to circumnavigate the world in 80 days on a £20,000 wager.
"This is such an exciting project", said the BBC's Head of Programme Acquisition Sue Deeks. "There is an amazing team both in front and behind the camera and we cannot wait to see their ambitious interpretation of this classic novel for a new generation."
Production began in February of 2020 and though it was likely affected by the pandemic, Around the World in 80 Days is expected to air on BBC sometime in 2021.