According to Digiguide, the first episode, or chapter, of Doctor Who: Flux will air on BBC One at 6:25pm on 31 October.
The last frame of the Doctor Who: Flux trailer for BBC America mentions a "GLOBAL PREMIERE EVENT." The previous time the words "global premiere" were mentioned in relation to Doctor Who is when Jodie Whittaker's debut episode The Woman Who Fell to Earth was broadcast simultaneously in various countries around the world.
This would mean the first episode/chapter of Doctor Who: Flux will first air at 2:45pm ET on BBC America on 31 October. BBC America will likely repeat the first episode/chapter in the evening hours of 31 October as they did with The Woman Who Fell to Earth.
According to the BBC America schedule so far, the next three chapters of Doctor Who: Flux will air weekly at 8pm ET on subsequent Sundays.
BBC America will also air a 3-minute "sneak peek" of Flux on Wednesday, 27 October at 4:27am ET.
At a press event attended by Digital Spy, Chris Chibnall revealed more Doctor Who: Flux casting news.
In addition to the actors already announced on October 15, Rochenda Sandall (Line Of Duty), Sam Spruell (The North Water), Craige Els (Coronation Street), Steve Oram (The End of the F***ing World), Nadia Albina (The One), Jonathan Watson (Two Doors Down), Sue Jenkins (Coronation Street) and Paul Broughton (Clink, Brookside) were revealed.
We've previously mentioned these actors and their character names; Craige Els (Dan's work mate in John Bishop's introduction clip and Karvanista), Nadia Albina (Diane Curtis) and Paul Broughton (Neville, Dan's father).
Actors John Bishop and Nadia Albina filming Doctor Who season 13 at The Museum of Liverpool today. #DoctorWho #DWSR #Series13 pic.twitter.com/jLSrWP4mCM

— Phil Daley (@PhilDaley) March 23, 2021
Some additional photos from Doctor Who: Flux were released by the BBC.
Karvanista keeps Dan captive in a cage.

Yaz peering around the corner in Karvanista's lair.

Dan at the Museum of Liverpool.

A Sontaran in a spaceship.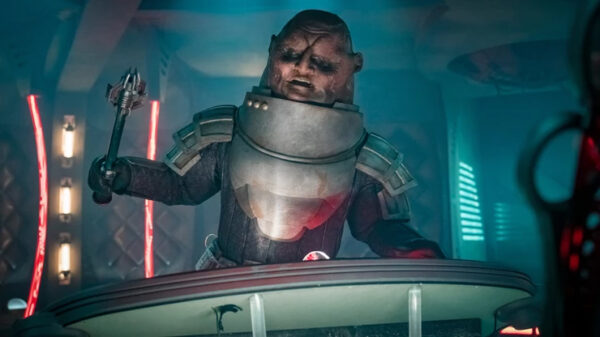 The Doctor seemingly in a crisis situation at the TARDIS console.

There will be three additional specials in 2022, airing on New Year's Day, spring, and a BBC centenary special in autumn which will be the last for Jodie Whittaker's thirteenth Doctor.