Three photos were released for The Vanquishers, the sixth and last chapter of the Doctor Who: Flux.
The first thing evident about the photos is that the episode continues from a Survivors of the Flux setting. Dan, Yaz and Professor Jericho remain in the Williamson Tunnels under the Edge Hill section of Liverpool in the past – with the tunnel builder Joseph Williamson himself.

A curious message is left on a piece of paper tacked the wall.

The message reads, "DECEMBER 5ᵗʰ. Far Future! TWO THOUSAND AND TWENTY-ONE!!" This is the very date The Vanquishers is to be broadcast. Whoever left the message likely has some knowledge of and event which will happen far in the future on that date.

The photo released of the Doctor reveals her no longer petrified in the form of a Weeping Angel, which was the state in which she was left at the end of Village of the Angels when she was recalled by the mysterious, omnipresent organization known as The Division.
It is worth noting that this is the same setting in which the Doctor first encountered Awsok in Once, Upon Time. Barbara Flynn, who plays Awsok, is not yet on any cast lists officially released for The Vanquishers but it would not be entirely surprising if she turns up.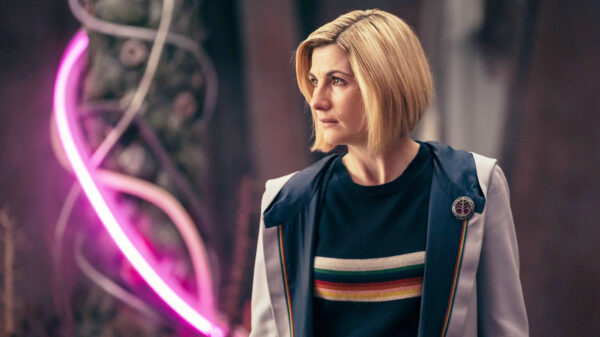 The Doctor wears a badge on her lapel with a tree motif. The purpose of the badge is unknown but it is known that the setting in which she is pictured contains a curious tree with pink leaves with luminous, translucent tubes radiating from it and set in a metallic base with lights – a curious mixture of alien flora and technology. The badge seems to contain a similar style motif to the setting. Perhaps it depicts the Tree of Life, a fundamental archetype in many of Earth's mythologies, religions, and philosophies.

Written by Chris Chibnall and directed by Azhur Saleem, The Vanquishers, the 59-minute sixth and final chapter of Doctor Who: Flux, will premiere Sunday, 5 December, at 6:20pm BT on BBC One and at 8:00pm ET on BBC America.