The country doesn't have Disney+, so fans will get to see Marvel's latest on the big screen! 
Celebrating the Marvel Cinematic Universe's first Pakistani superhero, and with Disney+ not yet rolled out in the country, fans in Pakistan will be able to enjoy the adventures of Kamala Khan on the big screen.
The show launches on the streamer with weekly episodes beginning on June the 8th. However, according to director Sharmeen Obaid-Chinoy's Instagram, the show will also land in Pakistan's cinemas across three parts.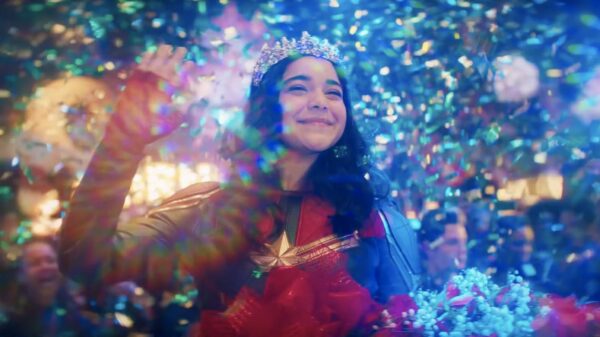 Keeping pace with Ms Marvel's streaming release, this will be a specially created "cinema format version".
Episodes 1 and 2 will debut on June the 16th, 3 and 4 on June the 30th, with 5 & 6 landing on July the 14th. Presumably this release strategy is designed to ensure the show doesn't leak from those cinematic airings either.
As part of her announcement, Sharmeen Obaid-Chinoy goes on to say:
"This decision was made to celebrate the introduction of the first Pakistani Marvel superhero, Kamala Khan (played by Iman Vellani), into the MCU. The series also features a diverse cast both in front of and behind the camera. Disney and Marvel did not want Pakistani audiences to miss out on seeing Ms. Marvel and her story as Disney+ has not yet launched in their country."
Another New Poster
Disney+ also just dropped another new poster for the show, for the celebration of Eid al-Fitr which marks the end of Ramadan.
The beautiful comic art design sees Ms Marvel bearing a crescent moon with the words "Eid Mubarak", meaning blessed feast or festival. She also wears her bracelets which, as the trailer indicates, appear to be the source of her powers.
For more information on the show, check out our previous coverage, including the terrific trailer.
Iman Vellani stars as Kamala Khan aka Ms. Marvel. The show serves to introduce Kamala Khan before she takes her place beside one of her heroes; she's joining Brie Larson's Captain Marvel and Teyonah Parris as Monica Rambeau (Wandavision) for the upcoming MCU movie The Marvels.
Ms Marvel launches internationally on Disney+ on Wednesday, June the 8th.