The Revolution of the Daleks preview in Doctor Who Magazine 559 revealed a few more details about the special.
The most interesting information came from Nathan Stewart-Jarrett, who plays "nervous young scientist" Leo Rugazzi in the special.
"He's really excited about discovery and creation and science, and he's been cultivating this embryo which, unbeknownst to him, is an evil being."
The most likely thing this embryo could be is a mutated Kaled, the tentacled creature which encases itself in Dalek armour. If newly-cultivated Kaled mutants meet the Dalek-shaped "defence drones" Prime Minister Jo Patterson (Dame Harriet Walter) deploys, you have all the ingredients for new Daleks.
"In the world of acting there are lots of stars. But there are no bigger stars than the Daleks. If you're in a scene with a Dalek, it's not about you," Stewart Jarrett told DWM. "It's about that Dalek. It's surreal seeing one in real life. They're everything you think they're going to be. The entire country has basically grown up with the Daleks. Every single generation has got their own version of the Doctor and their own version of the Daleks. You walk on set and you're like, 'That's a Dalek!'"
"And I got to work with such legends, like Harriet Walter and Chris Noth [who reprises his villainous Arachnids in the UK role, Jack Robertson]. Chris is a very funny person. He was absolutely hilarious on set, clearly having the best time. There's one scene where Chris, as Robertson, throws a croissant at me. He had so much fun with this and I just found it really funny. I couldn't stop laughing, which affected my hand-eye co-ordination so I couldn't catch the croissant. Then there was another scene where Robertson reaches for my ear and shouts at me. And I was like, 'I'm in the middle of nowhere and my ear's being tugged off by Chris Noth!'"
Chris Chibnall explained what's in store for the companions in Revolution of the Daleks, Graham, Yaz and Ryan, who must deal with dangerous events on their own while the Doctor is isolated and struggling in a prison for a very long time. The new peril is a direct result from when the Dalek scout attacked GCHQ in the 2018 Doctor Who New Year's special Resolution.
"Meanwhile, back on Earth, it's been ten months since Yaz, Graham and Ryan have seen the Doctor. They're on their own, missing her, struggling to figure out their lives without her – Yaz is obsessed with trying to find her – when they discover the presence of a Dalek."
Director Lee Haven Jones shared his favourite Revolution of the Daleks scene he filmed with DWM.
"We did some location work on Clifton Suspension Bridge in Bristol, which it seems to me is the perfect background for a Dalek sequence because, bizarrely, the supports of the bridge have the same kind of silhouette as a Dalek. It's incredibly satisfying because once you've seen it, you can't stop seeing it. So Clifton Suspension Bridge, in my mind, is the Dalek Bridge. After the episode, I think people will call it that!"
#DoctorWho at Clifton Suspension Bridge! #Bristol pic.twitter.com/0g7clRkGB8

— Simone Picenni (@simone_picenni) October 23, 2019
John Barrowman shared with DWM what can we expect from Captain Jack this time.
"More flirting! He likes to flirt with Graham – he calls him a 'silver fox' – but I think Jack only does it to wind him up."
Barrowman also described a heart-to-heart between Jack and Yaz.
"Jack has a conversation with Yaz about how she feels about the Doctor. He describes the joys of being with the Doctor and explains what it's like when the Doctor leaves you."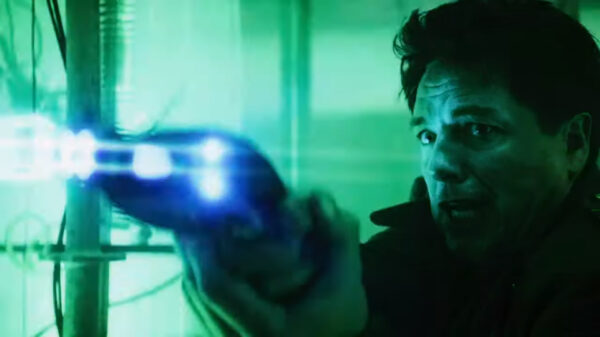 Chris Chibnall elaborated on Captain Jack to DWM.
"In Revolution of the Daleks we meet a slightly older, wiser Captain Jack. He's there for the fam and he's got emotional knowledge for them that is useful to impart."
Revolution of the Daleks is also the last episode of Doctor Who for companions Graham (Bradley Walsh) and Ryan (Tosin Cole).
"While there's lots of escapism and lots of madness in the special, it's a big emotional workout. There will be tears," Chris Chibnall explained to the magazine. "As much as anything, that's what this special is about. It's about how much you need your friends and your family, how those people can get you through tough times and how you grow through your relationships with them."
Doctor Who Magazine 559 is available on newsstands and by digital subscription now.
Written by Chris Chibnall and directed by Lee Haven Jones, the 71-minute Doctor Who New Year's special, Revolution of the Daleks will air on New Year's Day, January 1, 2021 at 6:45 p.m. on BBC One and 8:00 p.m. on BBC America.