The Slough House team return for another case when Russian sleeper agents activate. 
Ahead of its premiere on December 2nd, Apple TV+ have released the trailer for the second run of Slow Horses.
The show, which enjoyed a well-received first outing earlier this year, stars Gary Oldman as the leader of a team of dysfunctional MI5 agents. Deemed unfit due to career ending mistakes, they find themselves parked at Slough House.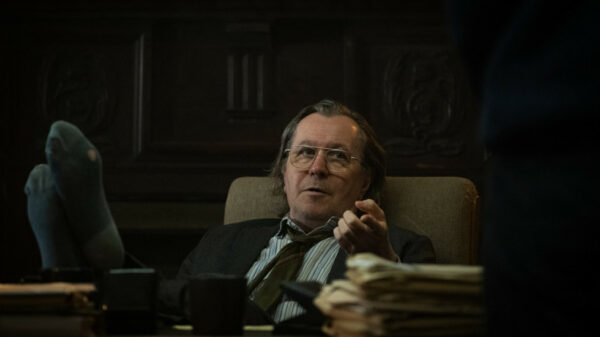 The series is based on the books by Mick Herron; this second season adapts the events of the novel Dead Lions.
Here's the synopsis:
In season two, long-buried Cold War secrets emerge which threaten to bring carnage to the streets of London. When a liaison with Russian villains takes a fatal turn, our hapless heroes must overcome their individual failings and raise their spy game in a race to prevent a catastrophic incident.
Joining Gary Oldman in Season 2 are Kristin Scott Thomas, Jack Lowden, Saskia Reeves, Rosalind Eleazar, Dustin Demri-Burns, Christopher Chung, Freddie Fox, Chris Reilly, Samuel West, Aimee-Ffion Edwards, Kadiff Kirwan and Jonathan Pryce.
See-Saw Films produce the series with Will Smith (Veep) adapting for television. The six episode run is directed by Jeremy Lovering (Sherlock, Doctor Foster).
Slow Horses Seasons 3 and 4
Off the back of the successful first season, a third and fourth are already in the works. The third sees the team working to foil a rogue agent, while the fourth promises a bombing that detonates personal secrets.
Apple TV+ are releasing two episodes of Slow Horses Season 2 on Friday, December 2nd. The rest arrive weekly on Fridays.