The final trailer reveals a cool looking character on a speeder bike. 
At the time of writing, we're just hours out from the long awaited launch of The Book of Boba Fett.
The show, a spin-off from the team behind The Mandalorian, is set to take the classic Star Wars bounty hunter character and put him centre stage. As you might expect, Disney's promotional engine has been running hot over Christmas, knocking out final trailers on social media.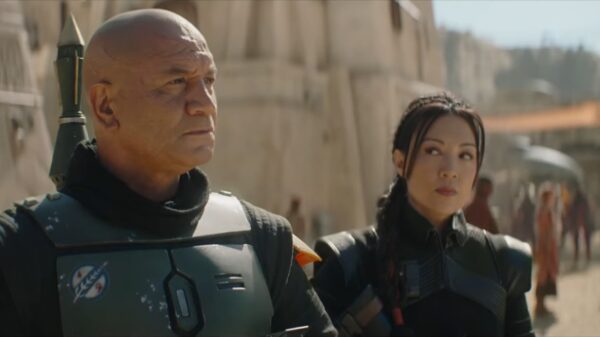 We're told the story will follow Fett's attempt to seize control of Tatooine's criminal gangs. Seeking to fill the power vacuum left by Jabba the Hutt, his ally in this endeavour is Fennec Shand; the fellow bounty hunter began working with him during The Mandalorian series 2.
Special Look
The official Star Wars website dropped another long trailer for the show on the 24th December. We missed it because, you know, Christmas. Running to a more generous minute, it feels like we have seen much of the footage before across numerous trailers.
However, there was a new face; a young woman pulls an impressive turn on her speeder bike, stopping short in front of the camera at 0.45. With a shiny blue speeder and a defiant look, she's surely set to be a player in the show.
There's also another look at that very familiar ship which bears a resemblance to the Millennium Falcon too (as spied in "The Return" trailer.)
We get a couple of slices of dialogue too, the conciliatory "Why speak of conflict when cooperation can make us all rich?", then the defiant "I am not a Bounty Hunter… I'm the crime lord now."
It's also on their twitter feed, as well as a few quick character profiles.
There's also plenty of nice artwork, doubtless bound for a lunchbox near you soon.
"The Legend Returns"
There's also a short 15 second trailer entitled "The Legend Returns" on the official website too. Amid a fast montage of action scenes, Fett is challenged as to his identity and replies "You know damn well who".
The Book of Boba Fett is one of a slew of Star Wars live action shows coming our way, including Ahsoka, Andor and Obi-wan Kenobi. The show begins its eight episode Disney+ run on December 29th.