The latest boxset from Big Finish might at first seem somewhat of a departure from their regular sci-fi staples of Doctor Who and Blake's 7.
Based on the post-apocalyptic television show from the mid-1970s, Survivors actually has plenty of connections to both, coming from the pen of Dalek creator Terry Nation and sharing plenty of production staff with its BBC cousins.
Set in a world where huge swathes of the population fall victim to mysterious flu-like virus, Survivors deals with the consequences and how those precious few still living carry on with their radically altered lives.
While the three seasons on television followed the mainly rural fortunes of a fledgling community, the writers here have wisely opted to provide another take on the outbreak of 'the death'. Using audio's limitless effects budget, the initial two chapters cover the experiences of the outbreak though the eyes of fresh characters in mainly urban surroundings, such as a local newspaper office, a polytechnic and an airport terminal.
Helen Wiseman (Caroline Langrishe) and Daniel Connor (John Banks) are the two reporters, trying to keep going amid the rapid decay of daily life around them. Picking up hints that the hospitals are overwhelmed, it becomes obvious that this is far worse than an average bout of winter flu. Louise Jameson (Doctor Who's Leela) tears at the heartstrings as Jackie Burchall, a mother who struggles to cope with the loss of her family and remains in a state of denial.
At Feltham Polytechnic, Professor James Gillison (Adrian Lukis) lectures on the breakdown of social cohesion as his students begin to drop around him, while at Heathrow airport brash American lawyer Maddie Price, played by Chase Masterson (Deep Space Nine, Big Finish's own Vienna), is stranded waiting for a flight home. John Redgrave (Terry Molloy), a softly spoken civil servant, soon becomes her sparring partner, as he discovers his rulebook does not cover their situation at all.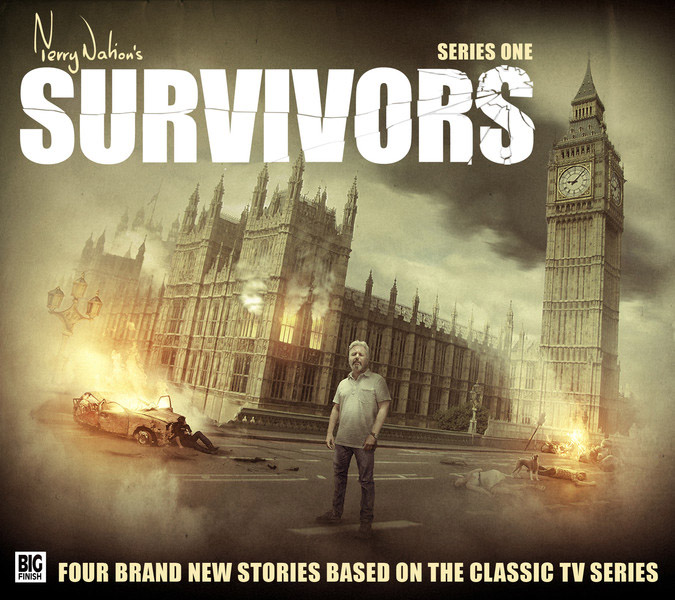 Moving the timescale on, the third and fourth chapters introduce series regulars Jenny Richardson and the ever practical Greg Preston, reprised here by the original actors Lucy Fleming and Ian McCullough. They are woven into the lives of our new crop of survivors and the tale which sits nicely within the continuity of the television series', even boasting a cameo appearance by original series star Carolyn Seymour.
Jenny and Greg become involved in the fate of the Feltham community, as James Gillison becomes increasingly paranoid about rival groups and begins to believe that only he can be trusted to make the big decisions.
Make no mistake, Survivors is full-blooded fare with tough decisions and chilling consequences, and it is not afraid to be pretty brutal in places and remains unafraid of killing off characters. Despite the period setting, the questions it poses about our society and reliance on technology are as potent today as they ever were.
Bold and involving, Survivors manages to be true to the spirit of the original material and highly affecting too. The drama is supported by some superb, immersive sound design and an understated score. It is well worth listening to and a series we feel sure we will return to again and again in the year long wait for Series 2.
Extras: Over 40 minutes of interviews with cast and crew on the making of the series.

Released in June 2014 by Big Finish Productions Ltd.
> Follow Ian McArdell on Twitter.
What did you think of the story? Let us know below…