In another busy month for the Doctor Who audio producers, 'Doom Coalition 2' saw the return of the Eighth Doctor, Liv and Helen.
This second volume brought them face to face with the Voord, delivered another encounter with Mark Bonnar's fearsome unhinged villain 'The Eleven' and granted Eight a further brush with River Song.
Kicking off the second season with 'The Victorian Age', Torchwood went back to its roots offering an adventure for Jack with the institute's founder, Queen Victoria herself.
The Doctor Who main range took the Fifth Doctor on a trip into one of the darkest days in Manchester's history, as well as providing a bonus short trip for the First Doctor and Dodo.
Meanwhile, the Fourth Doctor, Romana and K9 found themselves embroiled in a temporal war, while the Short Trips brought the Seventh and Ace to Washington DC.
Main Range #210 'The Peterloo Massacre'
Concluding the current Fifth Doctor trilogy, writer Paul Magrs revives the programme's early tradition of pure-historical stories as he crash-lands the TARDIS into the lives of a Manchester household in August 1869
Factory owner Mr Hurley is a wealthy, self-made man, but his spirited housemaid Cathy chafes at her position and plans to peacefully protest her lot. Hurley is keen to exploit the Doctor's knowledge, while his son seems charmed by Tegan and proudly shows off his position in the city's Yeomanry militia.
Though the Doctor is grimly aware of the danger once he realises the date, he and his companions are separated; Nyssa accompanies the optimistic Cathy and her infant son to the demonstration while Tegan's mouth manages to get her confined to the city barracks as she bristles as the social pecking order.
Despite the complicated wider political context, Magrs provides far more than just a history lesson; he draws us in through personal stories and challenges our assumptions. With a mature tone, the tale does not shrink from its responsibilities and there is an insidious feeling of dread on the inexorable march towards St. Peter's Field.
Each of the principal cast has great material to work with, Sarah Sutton particularly shining as an outraged Nyssa. Director Jamie Anderson crafts a vivid and harrowing world, accompanied by haunting incidental music and tremendously immersive sound design from Nigel Fairs.
Usually we try to be disciplined, listening to stories an episode at a time and savouring the cliff-hangers. In this case it was just not possible; we ripped through the story in one evening, not daring to stop!
'The Peterloo Massacre' is an uncompromising drama about historical events that we are ashamed to say we knew very little. With no call for alien monsters, man's inhumanity to his fellows provides ample terror.
While we would not wish Doctor Who to be like this all the time, it is wonderful to hear a historical drama of this intensity and importance. This is essential listening.
Subscriber Bonus Short Trip: 'The Horror at Bletchington Station'
Read by Stephen Critchlow, the horror in question is a monstrous creature terrorising the navvy crew at work on a new railway line.
The First Doctor and Dodo arrive and despite his reticence, an impulsive Dodo becomes involved in the mystery which strikes a little too close to home for the Doctor.
This is a charming little adventure, with a neat and unexpected twist in tale. Fans of Dodo's adaptive accent might like to note that, in the fine tradition of the show, Critchlow pitches her as decidedly Brummie… or possible Scouse.
Short Trips 6.03 'Washington Burns'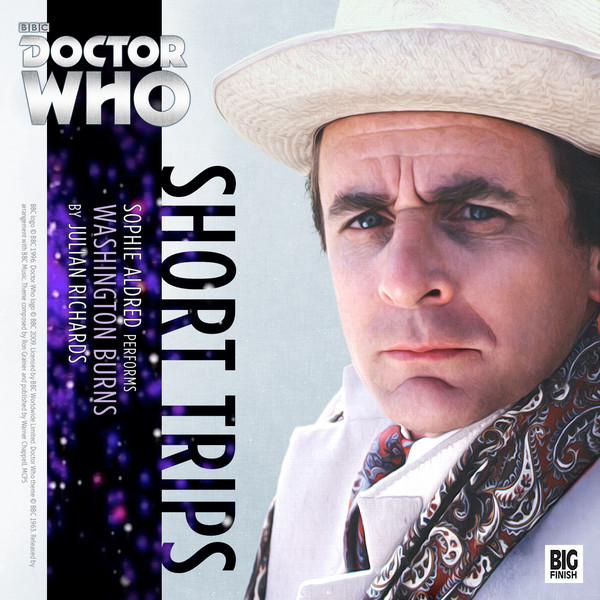 In this month's Short Trips, writer Julian Richards packs a big historical story into a thirty-minute piece of drama for the Seventh Doctor and Ace.
Read by Sophie Aldred, the story centres on the city of Washington DC in two time zones, with most of the story set in 1814. The action takes place against a real historical event (much like this month's 'The Peterloo Massacre') but in this case there is also a science-fiction dimension in the form of CEREBRA.
CEREBRA is an alien infestation the Doctor and Ace are chasing down across time. While this would be enough for most stories, events also intersect with the British at war with the then young American nation. Just over 200 years ago George Cockburn led troops into the capital and began to raze the city through widespread use of fire. This dovetails nicely with the Doctor's fight against CEREBRA but also gives a glimpse of a complex historical character in the form of Cockburn.
Sophie Aldred brings a range of voices to the reading and there is a continual sense of menace and fear playing out as the Doctor and Ace seek to destroy CEREBRA and anything that might eventually lead to its resurgence. It's a very different story but well worth a listen.
Fourth Doctor Adventures 5.03 'The Paradox Planet'
'The Paradox Planet' by Jonathan Morris is an entertaining romp for Tom Baker's Fourth Doctor, Lalla Ward's Romana and John Leeson's K9. The setup appears complex – a planet is at war with its own future, or is a planet at war with its own past?
The Doctor, Romana and K9 are shunted backwards and forwards in time on the planet Aoris and under the paradoxical plot Jonathan Morris weaves a tale of eco-catastrophe, rails against war as a solution and has plenty of fun with time tanks, chrononautical [made up word] marines and a strange cult.
Lalla Ward plays a superior yet amused Time Lord, possibly heading for a fall or possibly just disdainful of those lesser beings trying to frustrate her. The cast includes Tom Chadbon, who last appeared with Lalla and Tom in the TV story City of Death; unlike that trip to Paris, Tom Chadbon plays a more nuanced character (Embery) and shows he is capable of more than just wanting to hit people!
The rest of the cast are as excellent as fans have come to expect and the idea of travelling through time in a tank (though maybe not as idealised as the one on the cover) is well-delivered and adds to the atmosphere of this adventure.
The only real flaw in this story is in it being part one of a two-parter, so we have to wait until April for resolution. It's all shaping up to be another well-engineered predestination paradox, but Jonathan Morris no doubt has something more cunning in store.
What was your favourite Doctor Who release from Big Finish this month? Let us know below…
> Follow Ian McArdell on Twitter.