Peladon charts the history of one of the Doctor Who's favourite planets through the ages. 
It's been fifty years since the Third Doctor and Jo first travelled to Peladon. A feudal Earth-like society, though mineral rich, it was on the cusp of membership to the Galactic Federation – though not all his people shared that vision. A generation later, in the company of Sarah, the Doctor visited again for a further adventure.
Across the two tales, writer Brian Hayles created a vivid storytelling world. From bizarre alien delegates to court intrigues, shady Ice Warriors to legendary royal beasts, the Peladon stories dealt with the tension between technological progress and tradition values, all while taking their cues from the real-world political issues of the 1970s.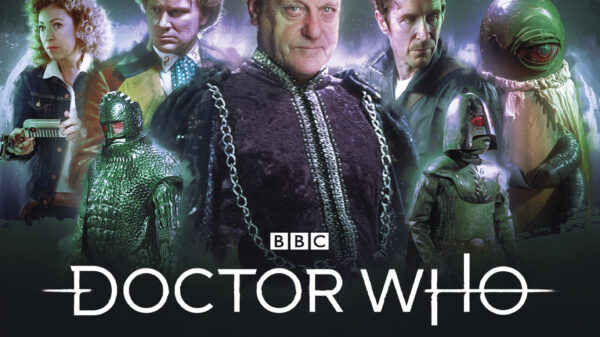 Big Finish has visited Peladon before, although not for a while; notably, the Fifth Doctor left his companion Erimem there to become its queen. In this celebratory set, we drop in on the planet in successive eras, charting the planet's progress through the ages…
The Ordeal of Peladon
The first story revisits King Peladon, albeit towards the end of his reign. Rather dominated by his Chancellor Raalan, a sharp political sort, the king is weary and isolated from his people. That's until he hears of a charismatic holy man, Skarn, who claims divine guidance and is building a following. Despite Raalan's protestations, Peladon ventures out into the word – and into danger. At the same time, the planet is subject to a spot inspection from an aged Ice Warrior official who soon becomes entwined in the tale.
Jonathan Barnes and Robert Valentine's script reintroduces us to this world of miners and court officials. David Troughton reprises his role as King Peladon. Though the character is aged, he still retains a youthful open mind and a certain twinkle. He's surrounded by an excellent supporting cast, including David Sturzaker's smooth operator Raarlan and Moyo Akandé's devout disciple Harfair. Nicholas Briggs gives an entertaining performance as the ancient Ice Warrior Ixmari too.
The Poison of Peladon
Jumping on, Lizzie Hopley's tale brings us to the progressive Thalira (Deborah Findlay). Again, it is much later in her reign than we saw onscreen; Thalira is a grandmother with but a single heir, a sickly granddaughter. She also has a new high priestess, in the shape of one River Song.
Feeling quite traditional in tone, this story features a visit from Galactic Federation delegates; the brilliantly named Ribble of Arcturus, an Earthly priest and, naturally, the high-pitched hexapod Alpha Centauri. There's also tension between the high priestess and a traditionalist Chancellor; he's anti-Federation and would really like to be declared regent – just in case.
There was danger this could feel like a rehash of previous Peladon stories, however River shakes up proceedings; from her lack of decorum to the delightful relationship she strikes up with Alpha Centauri – the prim and proper delegate is titillated by River's boldness.
The Death of Peladon
Colin Baker's Sixth Doctor enters the set for the third tale, in the company of Mel (Bonnie Langford). Arriving in one of Peladon's last mines, they discover a murdered miner and a ticking bomb. Generations on from the last visit, this is Peladon all but stripped of their precious trisilicate. With a horrendous environmental legacy, revolution is in the air; it's the perfect time for another visit from that hugely long-lived hexapod Alpha Centauri.
With an inept Queen on the throne, and her sarcastic daughter making her presence felt, Mark Wright's story gives us Peladon on the edge; can the planet survive long enough to face up its problems, or will they descend into bloody conflict? The impacts of mining on the planet and its people are writ large with some bold (but necessary) allusions to real-world corporate practice. Again, Alpha Centauri is great fun here, working well with Mel who enjoys plenty of agency.
The Truth of Peladon
Tim Foley's tale, the final in the set, could not be more different. It uses just four principal players but is no less impactful or dramatic – in fact, it is our favourite.
The Peladon we return to is barely recognisable, it has become a police state – slowly dying under the  regime of the powerful Chancellor Barok. Into this situation comes the Eighth Doctor with an agenda. Ostensibly, he's the new apprentice to the last great seamstress who has been commissioned to make a traditional cloak for the upcoming coronation. In truth, he has larger ideas… but what sort of world is Peladon now and just who is the Doctor he working with? It would be a crime to say more, but the plot is incredibly satisfying and so cleverly executed.
This final outing attracts a couple of impressive guest stars: Jason Watkins plays the sinister Barok while Meera Syal brings great depth to the wise seamstress Arla Decanto.
Summary
Script editor Rob Valentine and director Barnaby Kay have fashioned a treat, full of love for those original Peladon stories and keeping faith with their allegorical themes (without anything as quite on the nose as The Pexit of Peladon). It feels like there's plenty of fertile territory for further visits too; we'd love to hear the Ninth Doctor promoting a bit of democracy among the masses, for example.
While we enjoyed the representatives of the Galactic Federation – especially Alpha Centauri, beautifully performed by Jane Goddard in the style of Ysanne Churchman – it would have been great to hear from some wider representatives. It's surely a big old galaxy out there!
In terms of the production, we loved the theme drawn from Pertwee's Venusian lullaby  – and it's worth hanging on for the end of the set to hear Paul McGann's version too!
Doctor Who: Peladon is available on CD and download now from Big Finish.