Well, that was gloriously life-affirming, wasn't it?
Maybe it's the fact that Shakespeare's comedies, when done well, lead to a freeing of the human spirit.  (When done badly, they're excruciating.)  Maybe it's because there is little more delightful on television than hearing Bernard Cribbins sing.  Whatever, that was a more than convivial way of spending a Bank Holiday evening.
Contrary to what you may have read in the printed press, there's little here that's truly radical.  Having Demetrius briefly fall in love with Lysander is entirely of a piece with a play that is about sexual confusion, and gives us the splendid sight of the Royal Shakespeare Company's current Hamlet, Paapa Essiedu, crushing out on the seeming love child of James Spader and Harry Potter.
As with that Trap Street set from Doctor Who, what's noticeable here is not what's new but what's recycled – and how well that recycling's done.
There's a brief moment of jarring when one realises that the Hannibal Lecter trolley on which Hippolyta gets wheeled is the same one from David Tennant's Doctor Who swan song, but then, such is the pace of this thing, we're on to iPads, flunkies, and, specifically, totalitarian abuse seen as a metaphor for sexual repression.
In the gaiety, in both senses, that gets released in the final song and dance number, Cucumber star Fisayo Akinade (Flute) gets his guard and there's another kiss, between Hippolyta and Titania, which early previewers would have you believe is controversial.  It isn't.
It's an expression of the personal and sexual liberation characters are supposed to embrace in a Shakespearean comedy.  Little wonder, then, that Russell T Davies was drawn to this material.  In this faerie world, you can literally get your wings.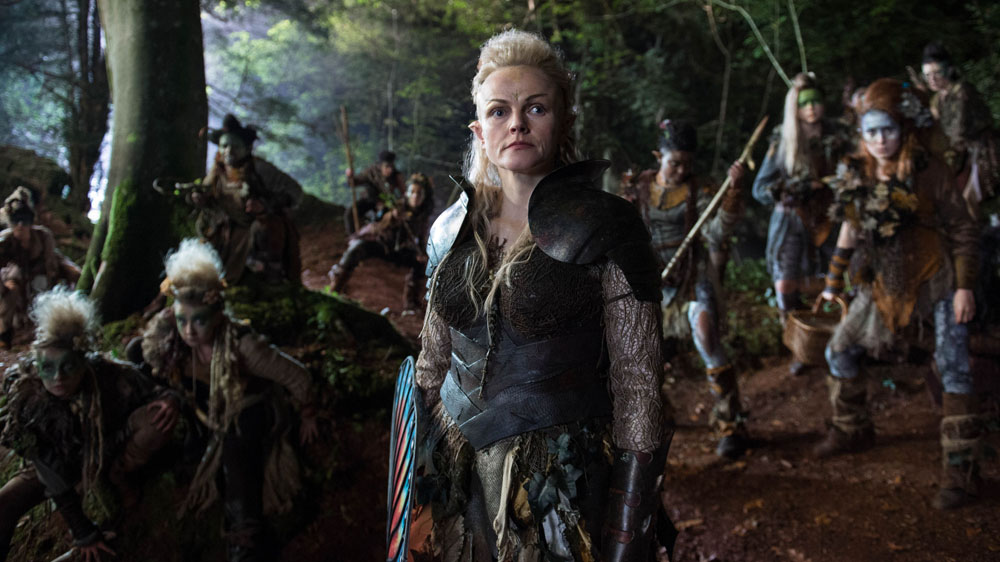 In this version of Athens, and the wood outside, love crosses social and ethnic boundaries.  Patriarchs desire the status quo, or marriage as a status symbol of victory, lineage and control, but love is colour blind.  What's under attack, constantly, is the forces of orthodoxy.
Yes, the Nazi-style imagery that accompanies John Hannah's Theseus may seem clunky if you're not attuned to Russell T Davies's upfront-and-be-damned approach to telling stories.  But none of this is fake.  Even when there are embellishments – such as Theseus's eventual fate – all of it is very consistently drawn from the world of the text.
And then there's Elaine Paige – for one night only, partnered up with Matt Lucas, Richard Wilson and Bernard Cribbins.  Ad libs are permitted, so there is at least one reference to Little Britain, and – what joy! – we get a company of Mechanicals where the audience are having as much fun as the actors.
If you have ever cringed your way through the Pyramus and Thisbe scene, the sly editing of it here – intercut with shots of the fairies' assault on the court – turns it into comic counterpoint rather than main event.  By the end, if you're not grinning like a loon, this particular love potion hasn't worked.
So now let's marvel at the final thing – that 90 minutes of Shakespeare, using the original text, was broadcast at 8.30pm on BBC One on a Bank Holiday evening.  Can you imagine any of the commercial channels doing that?  The most you'd be likely to get is a modern-day Romeo and Juliet, set on two rival council estates, with none of the original dialogue.  It could be brilliant, but it wouldn't be Shakespeare.
That the BBC is willing to do this is itself joyous – an expression of free spirit that should itself be celebrated and protected.  After all, if tonight's A Midsummer Night's Dream has reminded us of anything, it's that manacling the things we claim to love is never cool.
Aired at 8.30pm on Monday 30 May 2016 on BBC One.
> Follow Malcolm Stewart on Twitter.
Did you enjoy A Midsummer Night's Dream? Let us know below…