Forged in Fire marks a new start for the Doctor's previously missing incarnation, with actor Jonathon Carley taking on the role.
The War Doctor Begins is the first in a new series for the Doctor's lost incarnation. Picking up the baton from the onscreen regeneration in The Night of the Doctor, these tales explore the transformation; is this "War Doctor" truly ready to take up arms against the Daleks and do what Gallifrey demands of him?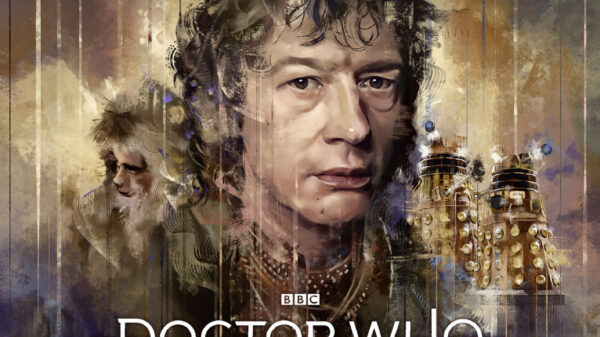 The Transformed Man
Matt Fitton's script reignites the ages-old standoff between the mystical Sisterhood of Karn and technocratic Time Lords. Gallifrey has plans for Karn but Ohila, the high priestess, works to her own agenda.
Meanwhile, the transformed Time Lord resists being rushed into action. Emphatic that he no longer be called the Doctor, he strikes up a friendship with a young acolyte, Lithea (Anna Andresen). She has remarkable abilities which are of use as they pick over Karn's spaceship graveyard search for weapons. Sent to collect him, we find Cardinal Rasmus (Damian Lynch – a familiar from previous Time War stories) and Helen Goldwyn's Commander Sanmar, one of Rassilon's zealots.
Light the Flame reestablishes the premise of this quite different era of Doctor Who, although the plot itself is slight. Veronica Roberts, director Louise Jameson's former Tenko castmate, ably assumes the role of Ohila, originally played by Claire Higgins.
Seen in action
Framed as a mission debrief for a young officer, Lou Morgan's story relates an early mission. Tasked with rescuing a Tharil spy, Gallifreyan Second Lieutenant Lorinus encounters the War Doctor on the battlefield. Commodore Tamasan asks the questions, keen to assess this new incarnation's loyalties.
Lion Hearts is a cleverly structured and demands your attention, with more going on than first appears. It is as much about the War Doctor's perceived reputation as anything else.
Recreating the leonine character from Warriors' Gate, John Dorney impresses as the haughty time-sensitive Biroc. Marilyn Nnadebe is commanding as the regal Valetta, and Amy Downham holds her own as the earnest Lorinus.
Mission Impossible?
Finally engaging the enemy, we find the War Doctor engaged in a plan to eliminate the Dalek Time Strategist. In doing so, he encounters Tamasan on a secret mission of her own. Working together uncomfortably, the pair discover a pernicious Dalek weapon and the remarkable deep-cover Time Lord strategy to negate it.
Writer Andrew Smith excels as these action-based stories, and The Shadow Squad is no exception. Beginning in dramatic style, he teases out fascinating tale with temporal implications and considers the sacrifices of war. As ever, Nicholas Briggs adds another unique Dalek performance to his ever-expanding repertoire.
Forged in Fire – in summary
First up, we must discuss Jonathan Carley's remarkable performance as the War Doctor. He has truly iconic shoes to fill and does so admirably; he is an uncanny vocal match for the much-missed John Hurt. It is also far more than an impersonation though, there is real emotional depth to the depth to the character. The Extras reveal he was coached by director Louise Jameson and it is clear their efforts have paid dividends.
Jonathon Carley (c) Big Finish
In terms of the character, this War Doctor may now be the sought-after warrior, however he remains his own man. That said, we loved the implication that his regeneration was instigated in order to get him to play his part.
With Ollistra (the late Jacqueline Pearce) understandably absent, Adele Anderson's Tamasan serves as the primary Time Lord contact. It is a similarly fractious pairing; the War Doctor continually frustrates Gallifrey's representative while they ostensibly fight for the same cause.
Forged in Fire boasts a beautiful cover by Claudia Gironi, with an appropriately dream-like quality to it.
Across this trio of stories, The War Doctor Begins exudes potential. Not just with the impressive casting of its central role, but with its ability to surprise and wrong-foot us; this "Doctor" can be presented with moral quandaries and we cannot be sure he will do the right thing. There is some hint of that here and we hope it is a theme that will continue to develop.
There is not long to wait either as Volume 2 – Warbringer has been announced for December 2021.

Doctor Who: The War Doctor Begins – Forged in Fire is available on CD and download from Big Finish