"Did you miss me?"
Sherlock will return for a one-off Christmas special later this year, followed by a full three-part fourth season in 2016 (probably).
> Like our Sherlock page on Facebook for all the latest news.
This news summary will be updated regularly as more details are revealed, with the latest updates at the top…
> Pre-order the Christmas special on DVD on Amazon.
> Buy the complete Season 1-3 boxset on Amazon.
Title: 'The Abominable Bride'
Filming: Tuesday 6 January until 10 February 2015.
Air date: Friday 1 January 2016 (also released in selected cinemas worldwide).
Running time: 90 minutes.
Writers: Mark Gatiss and Steven Moffat.
Director: Douglas Mackinnon.
Main cast: Benedict Cumberbatch as Sherlock Holmes, Martin Freeman as John Watson, Amanda Abbington as Mary Watson.
Guest cast: Louise Brealey as Molly Hooper, Jonathan Aris as Anderson, Yasmine Akram as Janine, Natasha O'Keeffe as Emilia Ricoletti, Tim McInnerny as Sir Edwin, David Nellist as Mike Stamford, Richard Sutton as Diamond, Stephanie Hyam as Jane.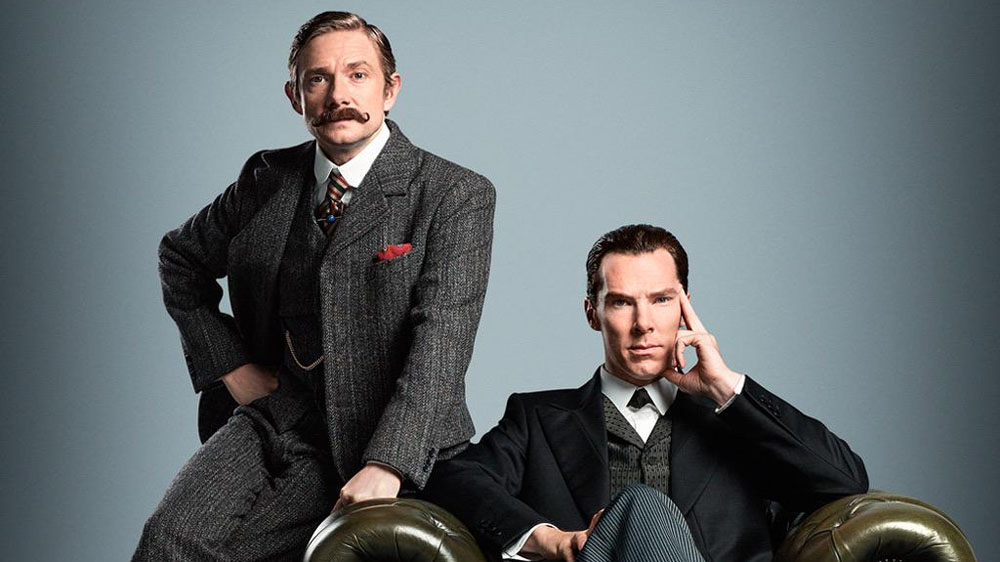 Steven Moffat: "We couldn't sustain 90 minutes on just having a bit of fun. Our ambition was that, explicitly, the first 15/20 minutes is the fun of seeing our version of Sherlock Holmes transposed back to its original setting. Then we've got to get on with the story. It's a proper scary mystery. I think it's quite a good mystery with quite a good solution, but there's also the ongoing tension between the version of the characters we developed to accommodate the modern setting now sitting in Victorian times."
BBC: "In addition to the 90-minute standalone episode, cinema goers will be treated to exclusive bonus material, including a guided tour of 221B Baker Street from Steven Moffat and a look behind the scenes at how the special episode was made featuring all the lead cast and crew."
BBC: "To complement the TV broadcast on BBC One, fans will have the unique opportunity to watch a simulcast of the one-off Victorian-themed episode of the hit BBC drama starring Benedict Cumberbatch and Martin Freeman on the big screen in cinemas across the UK on Friday 1st January 2016 for one night only."
Steven Moffat: "As a running joke, we'd always said, 'Should we try to get them into Victorian gear for a scene? Should we do a wee dream sequence, or have them go to a party?' I remember when we were shooting the little prequel for Series 3, Mark [Gatiss] was doing second unit on it and I was hanging out with him 'cause we hang out. We had a laugh and said, 'Could we do it just once?'"
Steven Moffat: "We keep calling it the Christmas special, and there's a Christmas-y element in it, but it's not really. You could put it in the middle of summer and it would be fine."
Amanda Abbington: "[Mary has] got these fantastic breeches. She's got an action costume."
Mark Gatiss: "It was thrilling for me and Steven [Moffat] because obviously the Victorian version is what we've grown up loving. We thought, we've got a unique opportunity here to do something different."
Steven Moffat: "Ghost stories work better in a Victorian setting. This off strand of Doyle original stories that are creepy and scary, and the chillers, we haven't done much with in the modern show. But putting it back into Victorian times, you think it's a chance to do a ghost story, really – a creepy, scary one. Other than that, it's remarkably similar."
Mark Gatiss: "What we initially did was to come up with modern equivalents for all the Victorian things, so in this we go back to the original. The texting is sending telegrams. We just reverse engineered it to how Conan Doyle did it."
Steven Moffat: "I think Benedict really enjoyed being Victorian Holmes. He was saying halfway through, 'Let's always do this. I quite like it.'"
Mark Gatiss: "It's not suddenly going to be a different show. It's essentially our Sherlock as if we'd always done it set in 1895. It has the same sensibility. The language is obviously slightly different but we wanted it to feel as funny and as vivid and as getable as our modern-day one. Otherwise it would be a sort of dusty period piece which is not what we are interested in."
Steven Moffat: "Suddenly, we realized…the women don't speak [n the original books]. Mrs. Hudson, I think has got one line of direct speak in the whole bunch of stories. And we sort of got to the point where we thought she was always like Una Stubbs. She is nothing like that at all."
Mark Gatiss: "[It's] set in 1895, the reasons for which will become clear."
Steven Moffat: "The special is its own thing. We wouldn't have done the story we're doing, and the way we're doing it, if we didn't have this special. It's not part of the run of three episodes. So we had this to do it – as we could hardly conceal – it's Victorian. [Co-creator Mark Gatiss] and me, we wanted to do this, but it had to be a special, it had to be separate entity on its own. It's kind of in its own little bubble."
Una Stubbs: "It's a brilliant script – it's so funny."
Mark Gatiss: "…it was a bitter night so we drew on our ulsters and wrapped cravats around our throats" [a quote from Sir Arthur Conan Doyle's 1892 story 'The Adventure Of The Blue Carbuncle']
Doctor Who writer Jamie Mathieson: "The big question is not how modern Sherlock ends up in the Victorian era, but how a Victorian character ended up here in the first place."
Director Douglas Mackinnon: "That's only the half of it."
Mark Gatiss: "It's a very special special, and we're all tremendously excited about it."
Mark Gatiss: "It will be finished, of course, by the end of spring, [but] when they show it is entirely down to the schedulers."
Sue Vertue: "The show has to keep evolving, it has to move on at a pace, I think."
Mark Gatiss: "Steven [Moffat] and I are writing the special at the moment…"
Martin Freeman: "It's going to be full of surprises for you, and for us and for everybody."
Steven Moffat: "Mark [Gatiss] and myself are so excited with what we've got coming up, probably more excited than we've ever been about Sherlock."
Martin Freeman: "We're doing more in … January and February – a Christmas special – and I've not seen a script yet cos we never do see a script until quite late on."
Sue Vertue: "You might not always have three [episodes per season], possibly, but they'll stay that [90-minute] length. It's a good length, I think."
Mark Gatiss: "For some reason, people seem to think the #Sherlock special will be about 7 mins long. It's episode 10, my dears. It'll be 90!"
Steven Moffat: "Of course, it's far too early to say what's coming, but we're reasonably confident that the very next thing to happen to Sherlock and John, is the very last thing you'd expect…"
Martin Freeman: "[Filming in early 2015] looks pretty likely … If that's going to be a special … I think that might be for next Christmas. A Christmas special. That's what I understand."
Mark Gatiss: "There was talk [of a special, but] amongst people who have nothing to do with Sherlock, I'm afraid."
Martin Freeman: "Mark Gatiss may beat me up, but there is an idea for this one-off special that's such a good idea… It's a fantastic, really mouth-watering idea."
> Pre-order the Christmas special on DVD on Amazon.
> Buy the complete Season 1-3 boxset on Amazon.
What do you want to see in the Christmas special? Let us know below…