If you don't like sport then boy, are you fu…ff-finding yourself in a difficult position this summer, because as you sit there, letting your sofa soak up the Pimm's sweats, and desperately jabbing at the remote, you'll have noticed something.
THERE'S NOTHING ON.
Which is no surprise. Summer is traditionally a drama drought featuring just a trickle of entertainment. Last year we had a drop of The Returned, a drip of The White Queen. It's when TV, believing that life is an Enid Blyton novel and everyone is on holiday, likes to chase you outdoors to go frolic and drink ginger beer with your chums. Unless you like sport that is, in which case it lures you into the nearest pub to drink proper beer with your chums and frolic later.
And the perfect storm of the World Cup and Wimbledon means that this summer has been a terrible dry spell for the many millions who aren't fans of competitive ball-play. All we've got is more bloody MasterChef.
Fortunately though, the first half of 2014 has provided us with some first-rate telly that, for reasons of having a life, you may have missed or wilfully ignored.
This is your opportunity to catch up with what you've not seen, so here's 10 top quality shows you can catch up on while others are watching people knock their balls about and bite one another…
Doctor Who: 'The Time of the Doctor'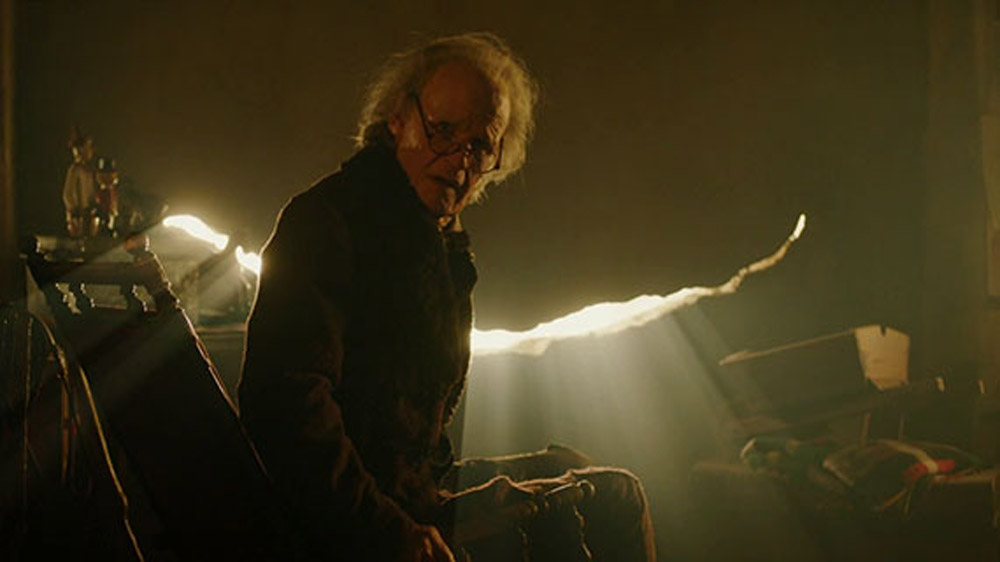 KIDNEYS! Cor, August's dragging it's heels, innit? Until Series 8 lands on the world and everyone goes Capaldi Crazy – and YouTube mash-up folk with a stack of The Thick of It scenes at hand go even crazier – reacquaint yourself with where we left off.
Prosthetics-clad Matt Smith wagging his sonic at a spruce Cyberman (how does it not set itself on fire?), a turkey that spends so much time travelling in the TARDIS it could technically be considered a companion, and a regeneration that happens quicker than a Weeping Angel's sneeze. Don't blink! Or you'll miss it.
Happy Valley
It may have a title that sounds like a CBeebies show featuring an affable cartoon cow – or a brand of margarine featuring an affable cartoon cow – but Sally Wainwright's latest BBC One drama is anything but affable. Or buttery. Or bovine.
What it is is well-written, very violent, and will quickly pull you in far deeper than you ever expected to go, as kick-ass gran Sergeant Catherine Cawood (Sarah Lancashire – remember when she was Raquel in Corrie?) becomes obsessed with finding the man she believes is responsible for her daughter's suicide. And ooh, it gets dark. Have a cushion to wince behind.
Line of Duty: Series 2
In case the great British Summer is just too cheery for you, draw the curtains and watch a drama so dark that your soul will need a night-light. Jed Mercurio's six-part investi-cop thriller is a twisty-turny maze of violence, intrigue, taped intrigue, and Adrian Dunbar putting his hands on his hips a lot.
The real attraction though is Keeley Hawes's striking performance as the possibly-guilty copper Lindsay Denton. Prepare to engage with a drama that will have you guessing her guilt. If you haven't already had Twitter spoil the answer for you, that is.
Watch this and Happy Valley and then debate which is better. By the time you've come to a conclusion The World Cup should be over.
> Buy the Series 1 & 2 boxset on Amazon.
House of Fools
Transferring the '90s irreverence of The Smell and Reeves & Mortimer into a more traditional sitcom setting sounds as easy as pouring Marmite down an armadillo's throat, but House of Fools proved that Vic Reeves and Bob Mortimer's unique brand of non-sequitur idiocy could be moulded to fit within three plywood walls and a very pliable fourth.
Throw in some silly songs and a pudding-voiced Matt Berry, and it's a half hour that's madder than a bag of German Honeymoon Horses.
> Pre-order the Series 1 DVD on Amazon.
In the Flesh: Series 2
Series 1 & 2 of the best drama of 2014 that didn't have the words 'Happy' or 'Duty' in it are now available in one boxset. Handy.
Fans are rightly clamouring for a third series (#SaveIntheFlesh) so if you've not seen it then it's time to experience what all the fuss is about. Regular CultBoxers will know I've been banging on about it like a zombie knocking on his coffin lid. And with good reason. No other drama in 2014 will speak to you on as personal level as In the Flesh will. Have hankies at the ready for both series finales. And some for your hayfever.
> Buy the Series 1 & 2 boxset on Amazon.
More on Page 2…