Doctor Who will return for a full season  in 2014, starring Peter Capaldi as the Twelfth Doctor alongside Jenna Coleman as Clara.
This news summary will be updated regularly as more details are revealed, with the latest updates at the top of each section. Rumours and unconfirmed reports will be marked with a *.
> Like our new Doctor Who page on Facebook for all the latest news on the show.
Warning: As filming progresses, this summary may include rumours that later turn out to be spoilers.
> Order Season 8 on DVD on Amazon.
> Order Season 8 on Blu-ray on Amazon.
Showrunner/lead writer: Steven Moffat.
Executive producers: Steven Moffat and Brian Minchin.
Producers: Nikki Wilson and Peter Bennett.
Writers: Steven Moffat, Mark Gatiss, Frank Cottrell Boyce, Gareth Roberts, Stephen Thompson, Phil Ford, Jamie Mathieson and Peter Harness.
Directors: Ben Wheatley, Paul Murphy, Douglas Mackinnon, Paul Wilmshurst, Sheree Folkson and Rachel Talalay.
Main cast: Peter Capaldi as the Twelfth Doctor and Jenna Coleman as companion Clara.
Recurring cast: Samuel Anderson as Danny Pink and Ellis George as Courtney Woods.
Series 8 filming duration: Tuesday 7 January 2014 until Wednesday 6 August 2014.
Broadcast: Saturday 23 August 2014 until Saturday 8 November 2014.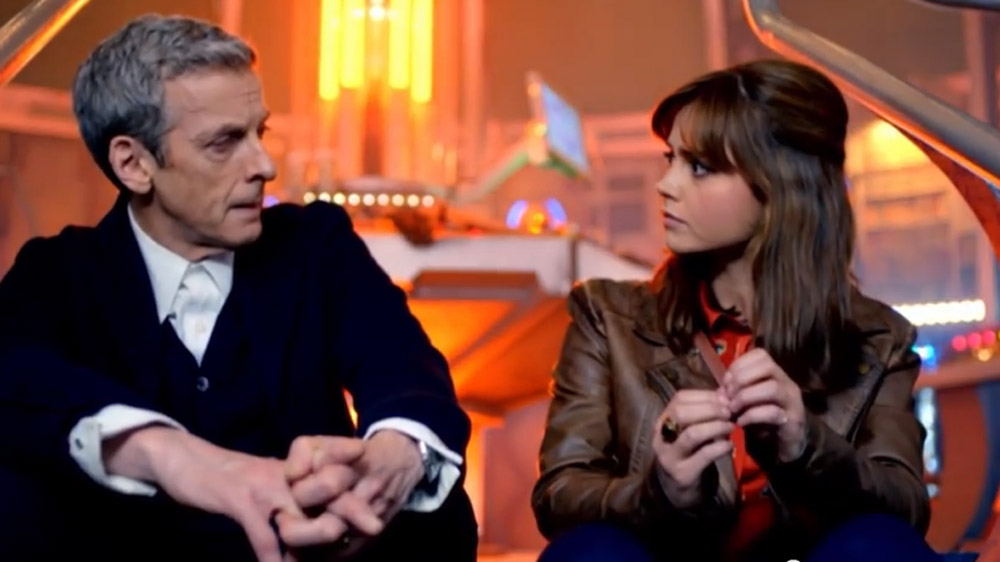 Jenna Coleman: Series 8 won't dwell on the "impossible girl" mystery of Clara's character
BBC One controller Charlotte Moore: "[Series 8 is] visceral, emotional and epic… [there is] nothing safe and predictable about the new series and the new Doctor."
Peter Capaldi: "There'll be no flirting, that's for sure. It's not what this Doctor is concerned with."
Peter Capaldi: "…it's going to be a bit different from what we've seen over recent years. A bit more gravity. Some situations are a bit more sombre and I think there are more rooted dramatic scenes…. we have another level of drama, another tone. And the scenes are longer."
Peter Capaldi: "We still blow a lot of shit up. That's very important…"
Steven Moffat: "One of the watchwords we have this year is there are consequences for choosing to live like this. It's not a fairytale. If you have people back home, if you run away it's going to have an effect on them."
Steven Moffat: "We want to make it feel that these adventures can hurt…"
Steven Moffat: "It needs to be surprising again. The rhythm has to alter, which it has [in Series 8]."
Radio Times: "[Peter Capaldi] is the oldest Doctor and there is a sense he is more distanced from his assistant, more of a mystery He is perhaps less a mate, and someone she looks up to. She has to try and gauge him – but dramatically it's very satisfying and onscreen they work very well together."
Steven Moffat: "There is something about [his] demeanour, his eyes, his attitude – he's tremendously bright and that comes out on screen."
Radio Times: "[Series 8's] storylines have started from "the bottom up" with Capaldi's Doctor having a clean slate of storylines with little reference to his predecessors."
Steven Moffat: "Now those pesky humans who keep following him home are usually content to stumble about, saying 'It's bigger on the inside' and remain sufficiently in awe of the Police Box magic never to question it. But clever, sceptical, hard-to-impress Clara might just cause trouble. It's almost like it's all building to something… Oh! What's this I'm writing today?"
Mark Gatiss: "I think the way the Time Lords were represented in 'The End of Time' and 'The Day of the Doctor' was very exciting because we're seeing them in a crisis and they're trying to come up with different ways of saving themselves. But I suppose if the Doctor ever does find Gallifrey again, then we might find out more. Who knows…"
Mark Gatiss: "Every time you go back to Gallifrey, it starts to make the Time Lords a bit too domesticated. I know that's why Russell T Davies came up with the whole idea of the Doctor being the last one because eventually if you see them so often they become a bit like a bunch of MPs, whereas if you talk about them as this amazing, powerful force, they're much more exciting."
Peter Capaldi: "…I'm looking forward to sharing with the world the very exciting journey the new series is taking us on."
Steven Moffat: "There's a sort of control freak element to [Clara's] character. Now we're going to give her a Doctor who's not like that at all, who's a much older, fiercer, madder, less reliable Doctor, who leads her a merry dance. And she's trying to keep him secret and she's now working in a school…"
Peter Capaldi [on his costume]: "He's woven the future from the cloth of the past. Simple, stark, and back to basics. No frills, no scarf, no messing, just 100 per cent Rebel Time Lord."
Steven Moffat: "New Doctor, new era, and of course new clothes. Monsters of the universe, the vacation is over – Capaldi is suited and booted and coming to get you!"
Jenna Coleman: "[There are] exciting times ahead. [Peter Capaldi is] great… It's been great to get up on our feet and get started – we just seem to have taken off like a rocket."
Steven Moffat: "There would be little point in making as radical a change as we've made unless you're going to go quite different with the Doctor."
Steven Moffat: "Our vague idea is… the last two Doctors have been brilliant, and have been your 'good boyfriend' Doctors. But the Doctor isn't always like that. There is the sort of Tom Baker, Christopher Eccelston end of the spectrum, where he is mad and dangerous and difficult."
Ben Stephenson, Controller of Drama Commissioning: "Excitement and anticipation fills the air as Peter Capaldi's Doctor takes control of the TARDIS for the very first time today. It's going to be one hell of a ride and I can't wait for the journey to start."
Charlotte Moore, Controller BBC One: "A new year, a new face, a new Doctor! 2014 has arrived and it's Peter Capaldi's time so let the adventures begin!"
Steven Moffat: "I think it was time for the show to flip around a bit."
Steven Moffat: "I just felt watching last time around [Series 7] that 'oh, it's time we fixed that and changed that and moved that up a bit and changed that tone'. So now we've got to actually get a bit raw at it and do it in a different direction."
Jenna Coleman: "It will be a different show next year. Me and Peter [Capaldi] will get together before Christmas to start rehearsing and the scripts will start coming in."
Steven Moffat: "There'll be no split."
Jenna Coleman: "I don't know what [Clara's relationship with the Doctor] is going to be. You know it's completely open, but in theory it could be a new Clara for the new Doctor even. You know a Clara could pop-up at any time in theory. I don't know if they will or not. It's definitely something that's been set-up, though."
Steven Moffat: "…there's something about Matt's Doctor that paves the way for Peter's Doctor somehow. I can somehow absolutely believe that the strange old/young Matt Smith will turn into the strange young/old Peter Capaldi."
Alex Kingston: "I look forward to sharing more of [River] with you in the future, but… spoilers!"
Steven Moffat: "I'm probably done to be honest on what you can do with the Weeping Angels. But other writers have to have a go."
Armando Iannucci: "I'd love to write [an episode of Doctor Who]! Steven Moffat hasn't asked me, but it would be great because I love sci-fi and I grew up with Doctor Who as well."
Jenna Coleman: "[The 50th anniversary special] changes things. It changes everything. So we're kind of on this blank canvas [for Series 8]. I don't know where Steven [Moffat] is going to take it."
Steven Moffat: "I'd be very surprised if [Peter Capaldi's Doctor] didn't [have a Scottish accent]."
Steven Moffat: "I love the character [of Dorium Maldovar]. We would bring him back if we had a good story for him. But he's just a head in a box, which could make it slightly limiting."
Steven Moffat: "[The Twelfth Doctor is] going to look like an older man. A fiercer man. He won't be the dashing young man he was a minute ago, and I think that'll be rather exciting…"
Jenna Coleman: "We couldn't get to know too much about her because she was a mystery [in Series 7]. It's going to be nice just to have her as a human, as a girl. There's quite a lot to explore still, I think."
Jenna Coleman: "I'm so excited Peter Capaldi is the man taking on the challenge of becoming the Twelfth Doctor. With Steven's writing and his talent I know we'll be making an amazing show with an incredible incarnation of number 12. I can't wait to start this new adventure!"
Brian Minchin: "My main job now is staring in awe at the 50th Anniversary Special and wondering 'How the hell do we follow on from that?! Then, when I stop gawping and wondering, 'How did they do that bit, and that one, and that bit!' I will start work on the Christmas episode, written by Steven Moffat himself."
Brian Minchin: "A whole new series! But we certainly won't be releasing the details of that series right now in May 2013. Oh dear, that sounds mean! Well, I can tell you that I have just spent a very happy few days meeting some scarily clever writers, and we have an incredible set of stories to work on. More adventures ahead!"
Episode 1: 'Deep Breath'

Air date: Saturday 23 August 2014, 7.50pm.
Directed by Ben Wheatley.
Written by Steven Moffat.
Running time: Feature-length episode (apparently 75 minutes).
Guest cast: Neve McIntosh as Madame Vastra, Catrin Stewart as Jenny, Dan Starkey as Strax, Paul Hickey as Inspector Gregson, Tony Way as Alf, Maggie Service as Elsie, Sean Ashburn as Restaurant Droid, Mark Kempner as Victorian Cabbie.
Official synopsis: "When the Doctor arrives in Victorian London, he finds a dinosaur rampant in the Thames and a spate of deadly spontaneous combustions. Who is the new Doctor and will Clara's friendship survive as they embark on a terrifying mission into the heart of an alien conspiracy?"
Steven Moffat: "A slaughterhouse restaurant and a buried spaceship lead the Doctor into a confrontation with a long-forgotten foe…"
Ben Wheatley: "For me, they're back to classic Who, or the mid-Tennant adventures, where you'd tell a story and move on to the next one, less tied up in the machinations of long plot arcs."
Steven Moffat: "It's really about Clara trying to cope … mixed in with a truly terrifying monster."
Jenna Coleman: "I saw the first episode and it's amazing how different it feels. It's darker. The limits feel like they're being pushed more in terms of danger and the dread. It's scarier, that's for sure."
Steven Moffat: "It's a big introduction—he's the new Doctor. There's no point pretending that it's not the most interesting, dynamic thing that you've got to sell in that first episode. It's going to be about 'What's he like? How's he different?'"
Steven Moffat: "I suppose it feels a bit like a character piece, but there's plenty of action and nonsense and jeopardy, as there ever is in Doctor Who."
The Doctor: "Clara, be my pal. Tell me, am I good man?"
Clara: "I don't think I know who the Doctor is anymore…"
Reece Shearsmith: "There's a very abrupt and savage streak in Ben [Wheatley]'s work, but I don't think it will quite filter through [into his Doctor Who episodes]…"
Jenna Coleman: "We pretty much kick off where we left off at Christmas and we carry on the story straight away after the regeneration so we're dealing with that for the first ep."
Steven Moffat: "[Clara] just seemed so totally in control and so sort of perfect and sweet [in Series 7] that you really wanted to mess her around a bit and say, now let's give her a situation that she can't control."
Neve McIntosh: "It will be sad not to be working with Matt [Smith] again but I'm really looking forward to Peter [Capaldi] taking over and seeing what he does with it. [Madame Vastra, Jenny and Strax will] be helping the Doctor more, but I can't say anything else."
Steven Moffat: "In a world with which you are familiar [with Clara, Madame Vastra, Jenny and Strax all returning], you can make the Doctor more of a stranger again."
The Mirror: "As a new Time Lord you need all the friends you can get, but he even has to win over his companion. Clara grew very attached to Matt [Smith's Doctor] and that shows in the opening episodes. Peter [Capaldi]'s Doctor has to get past a spiky opening and try to make Clara a sidekick who will help him save the world from the usual mix of aliens and monsters from the galaxy."
Peter Capaldi: "New job, first day, slightly nervous. Just like the Doctor, I'm emerging from the TARDIS into a whole other world."
Steven Moffat: "First the eyebrows! Then, at Christmas, the face! Coming soon, the whole Doctor. In the Cardiff studios, the Capaldi era begins."
Steven Moffat: "I think [late summer 2014 is] probably right [for Series 8's start date]. But these things change so often."
Ben Wheatley: "I am very excited and honoured to be asked to direct the first two episodes of the new series of Doctor Who. I'm really looking forward to working with Peter Capaldi and finding out where Steven Moffat is planning to take the new Doctor."
View next page for info on Episode 2…