What treats are in store on Doctor Who Day, November 23, 2020?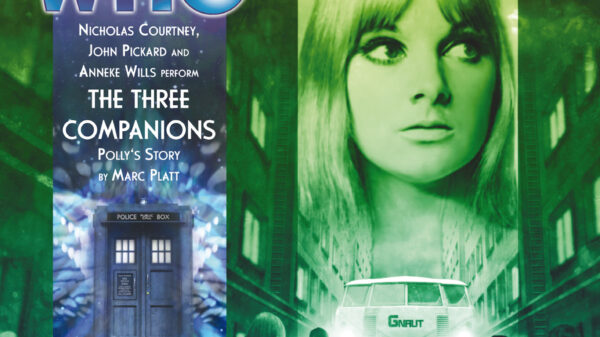 Let's begin with the free release (this week only) of Big Finish's first part of a Companion Chronicles adventure, Polly's Story.
Also announced on November 23, 2020 is the planned animation of the missing Episode 3 of the Season 5 second Doctor story The Web of Fear, to be released in 2021 on DVD, Blu-ray and as an exclusive steelbook. Fans will recall that four out of five missing episodes of The Web of Fear and the remaining five missing episodes out of six of The Enemy of the World were announced as found in 2013.
A special edition steelbook with artwork by Lee Binding containing the 2013 Doctor Who Anniversary specials was also announced. The Blu-ray contains the episodes The Name of the Doctor, The Night of the Doctor, The Day of the Doctor, The Time of the Doctor and An Adventure in Space and Time.
Amazon offers 25% off Doctor Who steelbooks this week.

BBC Studios has released the Series 12: Behind the Scenes Supercut for your enjoyment.
And, last but not least, a synchronous worldwide watch-along of the Doctor Who Series 12 finale The Timeless Children at 19:00 GMT.
The official Doctor Who social media for the BBC and BBC America have both announced the watch-along. However, the episode does not appear on the BBC One or BBC America schedules so fans will need to stream it or cue it up their DVDs.
We have to wonder why The Timeless Children was chosen for an official watch-along on this special anniversary date, which is approximately four to five weeks before the Doctor Who festive special Revolution of the Daleks will likely air. Fans will remember that The Timeless Children ends on a cliffhanger with the Doctor arrested by the Judoon and imprisoned inside an asteroid. The story was announced to be continued in Revolution of the Daleks at an unannounced date during the 2020/2021 winter festive season.
It is not unreasonable to expect that there might be another unannounced Doctor Who anniversary treat in the form of a Revolution of the Daleks trailer and/or air date announcement after the watch-along, which lasts 65 minutes. We can only hope.