Two trailers were released for Once, Upon Time, the Third chapter of Doctor Who: Flux.
"Time is beginning to run wild". On a planet that shouldn't exist, in the aftermath of apocalypse, the Doctor, Dan, Yaz and Vinder face a battle to survive.
War of the Sontarans ended in a cliffhanger at the Temple of Atropos on the planet Time with Swarm (Sam Spruell) about to click his fingers. Yaz (Mandip Gill) and Vinder (Jacob Anderson) have been put in place of two of the broken Mouri, six creatures who stand around a hexagonal altar to hold time together in the universe. Swarm claims that, when he clicks his fingers, the full force of time will blast through Yaz and Vinder and they won't be able to withstand the blast. The Doctor (Jodie Whittaker) asks Swarm what he wants and he answers, "To reign in Hell!"

There are also scenes on a Lupari Ship with Bel (Thaddea Graham) and Cybermen. Craige Els, who plays Lupari Karvanista, is on the cast list.

At some point Yaz and Vinder end up in a very metallic setting with Grand Serpent (Craig Parkinson).

The Doctor changes into a darker coat and looks ready for business. Her companions are armed with Division rifles. They revisit the Temple of Atropos.

Some odd, anachronistic things occur throughout Once, Upon Time. It's unclear it they are related. Yaz is back at police work with a Weeping Angel in her rear view mirror. Weeping Angels will appear again in the next episode, Village of the Angels.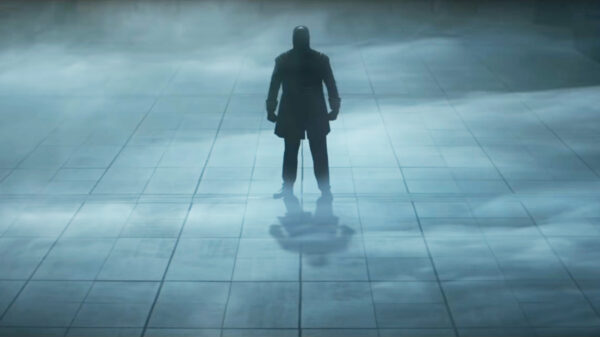 Dan (John Bishop) is invited to join the TARDIS team.
Written by Chris Chibnall and directed by Azhur Saleem, Once, Upon Time, the third chapter of Doctor Who: Flux, will premiere Sunday, 14 November, at 6:30pm BT on BBC One and at 8:00pm ET on BBC America.