A new gallery of promotional images was released for the Doctor Who New Year's special Revolution of the Daleks.
Among them are some new images of the Doctor's prison setting. According to director Lee Haven Jones in SFX magazine, the Doctor (Jodie Whittaker) is "on her own, isolated. It's a rather damp, dark, authoritarian environment. She's told when she needs to exercise. She's fed terrible food. She is in a cell all on her own and obviously is missing the fam."
There are also three new images of the Dalek, or "defence drone" as Prime Minister Jo Patterson (Dame Harriet Walter) calls it.
The Prime Minister appears in a new photo with Jack Robertson (Chris Noth), who was first seen in in the Doctor Who Series 11 episode Arachnids in the UK.
It's not entirely clear what they are up to but Roberson, the Prime Minister and Daleks are a dangerous combination.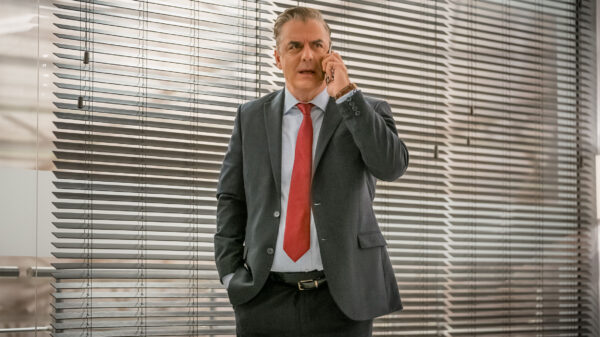 Which leads to this confrontation between the Doctor's companions and Robertson.
There is also a photo of companions Yaz (Mandip Gill) and Graham (Bradley Walsh) looking intently at something at Graham's house.
Yaz works on some equipment.
It is likely the same scene as when Yaz is attacked, seemingly by a Kaled mutant, in the trailer.
One promotional photo features Leo Rugazzi (Nathan Stewart-Jarrett) next to a sign which reads, "DANGER, DO NOT ENTER" in Chinese.
Written by Chris Chibnall and directed by Lee Haven Jones, the 71-minute Doctor Who New Year's special, Revolution of the Daleks will air on New Year's Day, January 1, 2021 at 6:45 p.m. on BBC One and 8:00 p.m. on BBC America.