On BBC's The One Show on 5 July, Russell T Davies revealed that he was shown a preview of the Doctor Who BBC centenary special in its entirety two days prior.
"What is coming up, in October this year, is Jodie Whittaker's farewell. So I feel like I'm upstaging it slightly. Lovely Jodie! And I just saw the finished version of that two days ago. It's a 90-minute epic. It's fantastic! So that is gorgeous with lots of surprises."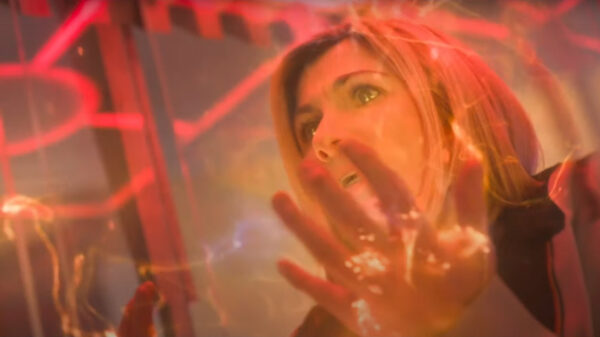 No information on the air date of the Doctor Who BBC centenary special has been released as part of official publicity, not even the month, so Davies is supplying information fans wouldn't normally have. He has also revealed that the special is 90 minutes and is finished — so it must now have a title.
You can find everything we know about the Doctor Who BBC centenary special here.
"Has anyone ever come on The One Show and given away a spoiler?"

Alex and Jermaine try to get some information about the #DoctorWho 60th Anniversary Special out of Russell T Davies 😅

Stream #TheOneShow on @BBCiPlayer 👉 https://t.co/1C7TTAav9P pic.twitter.com/eyFaxV2IHp

— BBC The One Show (@BBCTheOneShow) July 5, 2022
Davies kept quiet about plans for the Doctor Who 60th anniversary in favour of touting the centenary special but photographs of slates for Special 1 and Special 3 were shared by their respective directors Rachel Talalay and Chanya Button — revealing there are at least three specials to air as part of the 60th anniversary celebrations. Davies didn't contradict host Alex Jones when she said:
"Doctor Who 60th anniversary next year, there's going to loads of specials, I imagine."
celebrating night shoots? so glad to see the daylight. #DoctorWho pic.twitter.com/GfrOGbLOSA

— Rachel Talalay (@rtalalay) June 11, 2022
View this post on Instagram
Written by Chris Chibnall and directed by Jamie Magnus Stone, the Doctor Who BBC centenary special will air in October of 2022.
In a partnership between BBC Studios and Bad Wolf studios, Russell T Davies will write and produce Doctor Who 60th anniversary content to air in 2023 and series beyond.