From Open All Hours, to Come Outside and Doctor Who, Lynda Baron entertained generations of viewers. 
Here at CultBox, we were saddened to learn of the death of Lynda Baron. Her agent Donna French announced the news:
"It is with great sadness that we announce the passing of our beloved client Lynda Baron. She was a wonderful actress and a great friend. Her iconic roles of Nurse Gladys in Open All Hours and Aunt Mabel in Come Outside were loved by all generations.
Renowned for her leading roles in West End musicals and dramatic productions alike, we have lost a leading light of our world. We extend our deepest condolences to her daughter Sarah, her son Morgan and all her family."
A television icon
Originally training at the Royal Academy of Dance, Lynda Baron worked in repertory theatre and in the West End before television came calling.
In a wide-ranging career on the small screen, she moved effortlessly between drama and comedy. Early appearances included Crossroads, Up Pompeii and Z-Cars, but her lengthy resume also took in Last of the Summer Wine, dinnerladies, Fat Friends and Down to Earth. More recently, she enjoyed a regular role in EastEnders as Linda Clarke, the mother of Jane Beale.
In 2011, she was Bafta nominated for her role in The Road To Coronation Street. Baron played Violet Carson, the actress who portrayed the character Ena Sharples, in the one-off behind-the-scenes drama.
However, as children of the 70s, we doubtless knew her best as the object of Ronnie Barker's affections.
Across four series, from 1976 – 1985, Baron played Nurse Gladys Emmanuel against Barker's penny-pinching shopkeeper Arkwright in Open All Hours. The show made her a household name and she later returned to the role for the special and first two runs of its sequel Still Open All Hours, which began in 2013.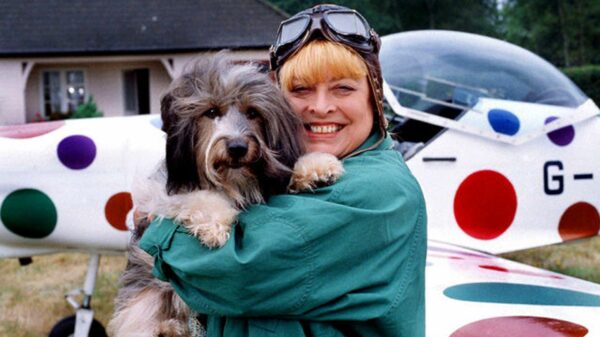 For children of the 90s however, or indeed their parents, Lynda Baron is familiar for another role. In Come Outside, she played Auntie Mable, the animal loving, spotted aeroplane flying owner of Pippin. Running for three series, repeats kept the show alive until 2012.
Doctor Who
In the sci-fi arena, Lynda Baron had three roles on Doctor Who. The first was a vocal performance, singing the (seemingly never ending) 'Ballad of the Last Saloon' – a refrain which punctuated the action in William Hartnell's 1966 western story The Gunfighters.
In the Davison era, and with apparent gusto, she was the Eternal Captain Wrack – the pirate captain of 1983's Enlightenment. It's a memorable performance as she despatches her competition in the space-faring race with one of the show's greatest villainous laughs.
Finally, she played opposite Matt Smith in 2011's Closing Time as Val, a kindly colleague when the Doctor took on a department store job to investigate power disturbances.
We're sad to report the death of Lynda Baron, who starred in 'The Gunfighters', 'Enlightenment', and most recently 'Closing Time' ❤️ https://t.co/sD0bC0qyoX pic.twitter.com/ZvDELJIbam

— Doctor Who: Eve of the Daleks (@bbcdoctorwho) March 7, 2022
Film and Stage
Away from the small screen, Lynda Baron also appeared in numerous films. These included Hammer's 1971 Hands of the Ripper, Yentl, Carry On Columbus and Woody Allen's Scoop.
On stage, her credits included the 1987 London production of the musical Follies and in J.B. Priestley's When We Are Married. Other stage roles included appearances in An Inspector Calls, Stepping Out, Entertaining Mr Sloane, and The Full Monty.
Lynda Baron died on the 7th of March 2022, aged 82. There are a number of tributes from friends and colleagues on the BBC News report.