It has been another amazing year of Doctor Who releases from audio producers Big Finish, who continue to entertain us with stories from pretty much all eras of the Time Lord's story – including John Hurt's War Doctor and David Tennant's Tenth, accompanied by Donna Noble.
Using our own patented, wildly unscientific, method we have concocted a Top 10, but there were plenty of fine stories bubbling under… such as the highly entertaining 'This Sporting Life'  in the Short Trips range, which revealed the true reason for the famous theft of the Jules Rimet World Cup trophy – or the epic Tom Baker tale 'The Genesis Chamber' – a six-part tale of a future human colony from celebrated producer Phillip Hinchliffe.
June also brought a great celebration of Jamie McCrimmon, with a Companion Chronicles box set, The Second Doctor: Volume One and Tom Baker enjoyed another season of Fourth Doctor Adventures, this time paired with Lalla Ward's Romana II.
10. Main Range #209: 'Aquitaine'
Jago & Litefoot regulars Paul Morris and Simon Barnard brought the Fifth Doctor, Nyssa and Tegan to the ailing ship Aquitaine for a smartly constructed mystery involving a genial AI named Hargreaves who was at a loss to explain the absence of his ship's crew. Expect twists and turns, plus a terrific cliff-hanger!
9. Novel adaptation: 'Nightshade'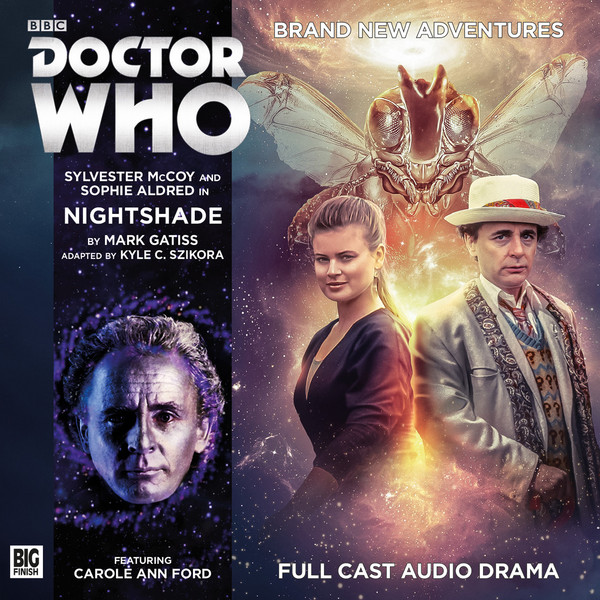 The dramatization of Mark Gatiss' classic New Adventures novel brought a world-weary Seventh Doctor to a damp Yorkshire village in the late 1960s. While an elderly actor from a popular science fiction programme has hopes of a revival for his show, people start falling prey to their memories as the story serves up good old fashioned chills and transmissions from outer space.
8. 'The Diary of River Song: Season 1'
Sneaking out hot on the heels of 2015's Christmas special, 'The Husbands of River Song', but technically a 2016 release, the Doctor's sometime lover was granted her own box set of adventures, plus an encounter with a Doctor or two. Expect murder, mystery and even a touch of archaeology too!
7. Main Range #213: 'The Two Masters'
Uniting the two Big Finish Masters, Geoffrey Beevers and Alex MacQueen, writer John Dorney not only penned the culmination of a multi-Doctor trilogy, but also knitted up some Masterly continuity and brought back his ever-popular Rocket Men too.
6. 'Doom Coalition 3'
Nominated primarily for its first episode 'Absent Friends', a heart wrenching tale for both of the Eighth Doctor's companions, Liv Chenka (Nicola Walker and Helen Sinclair (Hattie Morahan), this was the third box set in the epic sixteen part adventure for Paul McGann. The latter episodes focus on the wider tale, multiple time zones and River Song engaged in the quest for a Doomsday Chronometer.
5. 'The War Doctor Volume 3: Agents of Chaos'
More war stories for John Hurt's Doctor on his third audio outing, this time in the midst of the Time War itself. As the Time Lords battle the Daleks, the Sontarans try to crowbar their way into the action!
4. 'Classic Doctors, New Monsters: Volume 1'
Mixing old Doctors and New Monsters was a recipe for success, with the Fifth Doctor encountering the Weeping Angels (and Michelangelo), the Sixth coping with a very special Judoon, the Seventh handling the Sycorax while the Eight Doctor fended off New Series Sontarans.
3. Short Trips 6.09: 'A Full Life'
It is the only Short Trip in our list, but Joe Lidster's tale shows what can be achieved in this more personal format. The TARDIS arrives on Veredis, a world where the dead can come back, and events there give us a chance to see Adric through a different lens. A terrific performance from Matthew Waterhouse.
2. 'The Tenth Doctor Adventures: Volume 1'
Comprised of three tales, the modern day 'Technophobia', futuristic space story 'Time Reaver' and gothic romance 'Death and the Queen', the long awaited arrival of David Tennant's Tenth Doctor, with Catherine Tate's Donna Noble, certainly did not disappoint.
1. Main Range #210: 'The Peterloo Massacre'
Topping our list is a perhaps a surprise hit, a Davison era pure-historical, where the Doctor, Nyssa and Tegan become embroiled in the fateful historical events of Manchester 1869.
Paul Magrs' story was an uncompromising drama with mature themes, backed by a vivid production and is essential listening.
What was your favourite Doctor Who audio release from Big Finish in 2016? Let us know below…
Follow Ian McArdell on Twitter here.