The cast and character names of the the Doctor Who Series 12 opening episode Spyfall were published in the listing guide for the episode in Radio Times magazine.
In addition to Jodie Whittaker as the Doctor, Bradley Walsh as Graham, Mandip Gill as Yaz and Tosin Cole as Ryan, here is the cast list for Spyfall.
Steven Fry is playing a character named C, in the tradition of M, Head of the Secret Intelligence Service MI6 in the James Bond novels and movies.
Lenny Henry is playing Daniel Barton.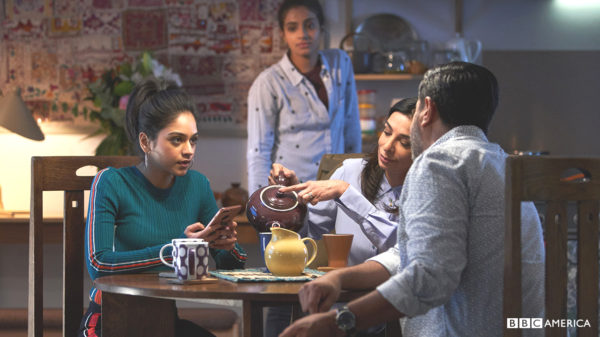 Shobna Gulati, Bhavnisha Parmar and Ravin J Ganatra reprise their roles and Yaz's mother, sister and father.
Sacharissa Claxton's character is listed as Passenger, likely referring to the MI6 agent's collapse on an aeroplane.
Struan Roger, who played Clayton in the Doctor Who Series 9 episode The Woman Who Lived, voices Kasaavin. Who/what is Kasaavin? Kasaavin is possibly the alien threat which attacks intelligence agents as mentioned in the Skyfall synopsis.
Asif Khan reprises his role as Sgt Ramesh Sunder, Yasmin Kahn's police boss.

Other cast members:
Buom Tihngang as Tibo (his CV lists him as Chike, under various directors)
Andrew Bone as Mr Collins
Christopher McArthur as Ethan
Darron Meyer as Seesay
Dominique Maher as Browning (Australian intelligence agent)
Melissa De Vries as Sniper
William Ely as Older Passenger (likely on the aeroplane with the stricken MI6 agent)
Brian Law as US Operative
Ronan Summers as Rendition Man
Since the Spyfall synopsis mentions intelligence agents under attack from alien forces as part of a worldwide conspiracy, it can be assumed a good number of the characters in the cast portray international intelligence agents.
Notably absent from the cast list are known agents from UNIT, the Unified Intelligence Taskforce which is usally tasked with dealing with alien threats in Doctor Who. It seems UNIT operations remain on hold, following financial disputes and subsequent funding withdrawal by the UK's major international partners.
Spyfall, Part 1 airs on New Year's Day 2020 at 6:55 p.m. on BBC One and 8:oo p.m. on BBC America.
We will continue to bring you news on Spyfall and Doctor Who Series 12 as we learn more.