In Doctor Who Magazine 580, composer Segun Akinola revealed that the Doctor Who BBC Centenary special is the last episode of Doctor Who for which he will compose the musical score.
"The Centenary Special will be my last episode of Doctor Who," the composer told DWM. "I always said I would be there for as long as [showrunner] Chris [Chibnall] and Jodie [Whittaker] were there, and when they moved on, it would be time for me to go as well."
"Three Series, One Doctor, Four companions. The last few years on #doctorwho have been an amazing experience," Akinola wrote on Twitter.
"To the fans, thank you for welcoming me so warmly, I've always been grateful for that."
Three Series, One Doctor, Four companions. The last few years on #doctorwho have been an amazing experience. I'd planned to stay for as long as Chris & Jodie were staying so the next episode will be my final one. There are too many people to thank but here are a few: Chris…(1/2) pic.twitter.com/C2Xr3Xh6gX

— Segun Akinola (@segunakinola) July 20, 2022
"What can I tell you?," Akinola said of the centenary special to DWM. "It's… the end of an era. Obviously the trailer has shown that the Master is back. The Daleks are in the trailer as well. As are the Cybermen… I think. If they're not, somebody stop me!," he joked.
"It is the great send-off," he explained. "Not just for Jodie, but for the whole era. And for me as well. It was a very fun but emotional episode to work on."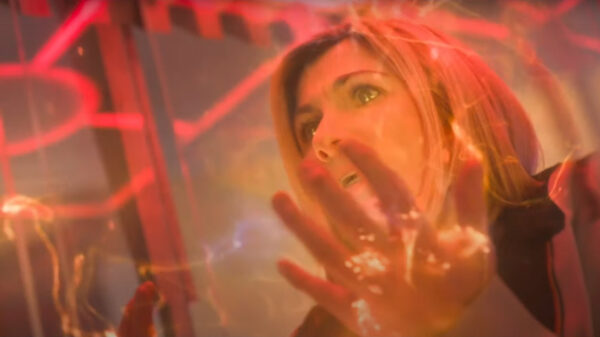 When asked by DWM if he completed the score for the special, he answered, "I have. And it's the great, long goodbye. Just a really good, exciting joyride. And it was lovely to work on."
Akinola also revealed to DWM that a reprisal of the thirteenth Doctor's theme, the first piece he wrote for Doctor Who, is the very last piece he worked on for the special.
Who will be the next Doctor Who composer with Russell T Davies as showrunner? Let's look at a few possibilities.
Murray Gold
Gold was the composer Davies hired to score Doctor Who when Davies revived the programme in 2005 and stayed on until 2017. Akinola took over the role of composer for Doctor Who Series 11 when Gold left.
Blair Mowat
Mowat composed the music for the Doctor Who spin-off Class, has scored Big Finish Doctor Who audio adventures and previously worked as an arranger with Murray Gold on Doctor Who.
Lorne Balfe
Balfe created the score for Bad Wolf's adaptation of Phillip Pullman's fantasy epic His Dark Materials. Balfe's possible participation in Doctor Who is a long shot as he has since been busy scoring films such as Top Gun: Maverick, The Lego Batman Movie 2 and Mission: Impossible – Dead Reckoning. Other composers possibly in the running from His Dark Materials are Steffen Thum and Boris Salchow.
Written by Chris Chibnall and directed by Jamie Magnus Stone, the Doctor Who BBC centenary special will air in October of 2022.
In a partnership between BBC Studios and Bad Wolf studios, Russell T Davies will write and produce Doctor Who 60th anniversary content to air in 2023 and series beyond.
Doctor Who Magazine 580 is available by post and digital subscription and will be available at news stands in the UK on 21 July.