The Vought Cinematic Universe plots global televisual domination! 
The Boys, the full-bloodied superhero series, is due to land its third season on Prime Video this June.
The franchise already boasts an animated spin-off, as well as a college-aged "young supes" show in production, but it seems that the Vought Cinematic Universe may have further spin-offs under consideration.
Speaking to Entertainment Weekly, executive producer Eric Kripke talks of the expanding franchise:
"We have a couple more scripts that we're in various stages of talking about. I don't think we're going to rush it, I think we want to build it slowly."
Much apparently depends on the success of the as-yet-untitled "Young Supes" live-action series.
"But I think we're in no rush because this only works if each show is totally different than the other, and we maintain the same level of quality as The Boys. Otherwise, it's sort of like, what's the point of doing it? We're trying really hard to not be scum f*ck sellouts."
Young Supes
That as-yet-untitled show, currently in production, is being showrun by Michele Fazekas and Tara Butters (Agent Carter) with Kripke executive producing.
The story will follow an ambitious group of young superheroes at a college run by Vought International. It's described as "an irreverent, R-rated series that explores the lives of hormonal, competitive supes as they put their physical, sexual and moral boundaries to the test". The concept has been likened to The Hunger Games, with its stars competing for hero contracts in the best cities.
There have been a number of cast announcements (and a few changes) so far; Jaz Sinclair, Chance Perdomo, Lizze Broadway and Maddie Phillips will all star, with London Thor, Derek Luh, Asa Germann and Shelley Conn also recently announced.
Diabolical
Meanwhile, the run of animated short films known as Diabolical landed in March. With a variety of animation styles, and episodes from numerous famous names, the anthology series was lots of fun.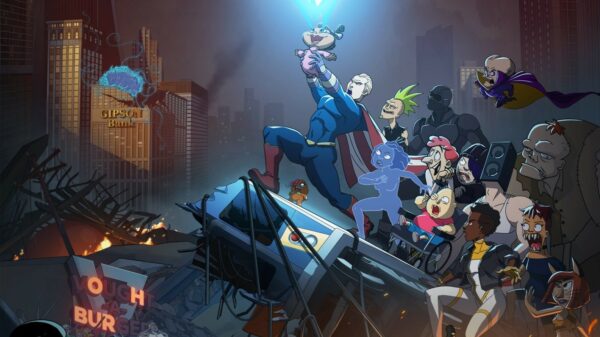 There's no confirmation yet of a second season, however the first was announced at relatively short notice, so we might not read too much in to that.
Meanwhile, The Boys Season 3 premieres on Prime Video on the 3rd of June 2022. It drops three episodes on that date, with subsequent instalments coming weekly, concluding on Friday, the 8th of July.
Oh, and here's the brilliant trailer for the in-universe movie "Dawn of the Seven" to whet your appetite!