The Annihilators is the latest audio outing for the Third Doctor, where he encounters a former incarnation. 
Jon Pertwee's first season of Doctor Who holds a special place in the heart of fans of a certain vintage. As the series burst into colour, the Doctor became an earthbound alien ally; working with the Brigadier and his military outfit, UNIT, and ably assisted by the capable scientist Dr Elizabeth Shaw.
Of course, as the cover shows, The Annihilators also mixes in a crossover with the programme's previous era. Although, in truth, it is actually more of a teaser for what is to come; the story features the Second Doctor, played by Michael Troughton (Patrick's son), and his stalwart companion Jamie McCrimmon (Frazer Hines).
Miasmic machinations
The story begins with the Doctor, working late at night to reinstall the TARDIS console back into its control room. With his efforts nixed by a gravity surge, he sees an impossible vision of his former self. Summoned 'up north' to Lewgate docks by the Brigadier, who is acting on an anonymous tip off, he soon becomes involved in nefarious and noxious goings on. With a police officer killed and the local Chief Inspector decidedly unwelcoming, UNIT uncover a deadly conspiracy — plus lots of pungent organic matter.
It is so much fun that we are keen not to give away the plot. Suffice to say, there is plenty of action, interesting motivations for very smelly aliens and something awry with time itself.
In longer stories there on screen, there was always the danger of filler — some ended up in cycles of catch and release, or implausibly extended chase sequences. It is not a problem here with plenty of incident for all the characters and enough twists and turns to keep the listener engaged too.
Writer Nicholas Briggs talks fondly of season seven in the Extras and his affection for it shines throughout. We loved how Liz takes on concepts such like the transmat without being fazed; she reasons it out perfectly in the moment and takes it in her stride. We particularly enjoyed her interactions with Jamie too, as they puzzled out their dual Doctor dilemma.
Season 6b?
In his first outing as the Second Doctor, Michael Troughton catches the character's impish sense of fun. It's no impersonation though and much more an acting performance as he makes the part his own. Frazer Hines plays an older Jamie too, still the ever-loyal friend and companion.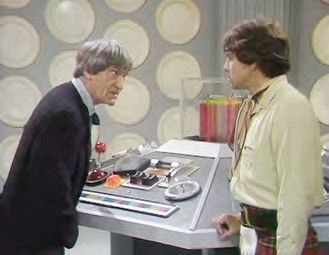 There's nothing explicit, but it is implied this is after The War Games for the Second Doctor. Presumably all will become clear later this year; if you can't wait, look up Season 6b – the fan-concocted, continuity correcting theory which seeks to explain Patrick Troughton's returns in multi-Doctor stories.
The new arrivals do not steal the regulars thunder either, this is still a Third Doctor adventure. Tim Treloar is well established in the role and Daisy Ashford seems to grow in confidence with each performance as Liz Shaw. Add to that Jon Culshaw's pleasing rendition of the Brigadier and this makes for a compelling slice of early Pertwee action.
In the wider cast, Mark Elstob shines in a variety of roles. We enjoyed his oleaginous Greshtrenor Leader and particularly his snide Dr Daniels (with shades of the late, great Peter Miles). As DCI Denise Walker, Karen Archer is commanding and quite a foil for the Brigadier too. With a story big enough to spread the regulars out, Daon Broni impresses as Police Sergeant Al Sinclair, as does Bethan Walker playing the gung-ho (and amusingly named) Dr Jane Broadbelt, as well as the Greshtrenor Sub-Leader.
In terms of production, this is a Nicholas Briggs triple-threat — he writes, directs and provides the era-appropriate incidental music too. He restrains himself from singing the theme tune. Pleasingly, the opening credits use the idiosyncratic style of The Ambassadors of Death, breaking the music for the cliffhanger reprise and then bringing it back in for a sting.
In Summary
The Annihilators is a great tale, with plenty of action, period detail and malodorous monstrosities. Along with the "good griefs" and gagging, it also provides a little ecological food for thought with a nod towards the themes the Third Doctor's era went on to develop.
The story would have doubtless been quite satisfying without the impossible guest stars, but that added dimension makes it something really special. As well as providing a pitch-perfect Pertwee romp, it has also amped up our anticipation levels for The Second Doctor Adventures, starring Michael Troughton, which begin in July. A job jolly well done Mr Briggs!

Doctor Who – The Third Doctor Adventures: The Annihilators is available on CD and download from Big Finish.