Welcome to the CultBox Podcast Roundup for March 2022. 
Our favourite podcasts this month in the worlds of film and tv have included, in no particular order…
The Two Shot Podcast, S9 Ep15 – Claire Rushbrook

The wonderfully down to earth Claire Rushbrook talked to Craig Parkinson on balancing life and family, and about her new film Ali and Ava.
The Doctor Who Show: When Dave Met Chris
The affable Aussies brought us an account of Christopher Eccleston's appearance at the Supernova convention in Melbourne, including his feelings on multi-Doctor stories and the chances of returning to the role of the Doctor onscreen.
Additionally, their regular monthly episode for March is a lot of fun too, casting TARDIS teams into the movies.
Real Dictators Season 3
Paul McGann's podcast telling the story of infamous despots continues, concluding its second look at Adolf Hitler. He's followed the rise of the Nazi leader all the way up to his grab of total power in Germany, culminating in 'The Night of the Long Knives'.
Next? Why, Genghis Khan, naturally.
Out To Lunch with Jay Rayner Season 3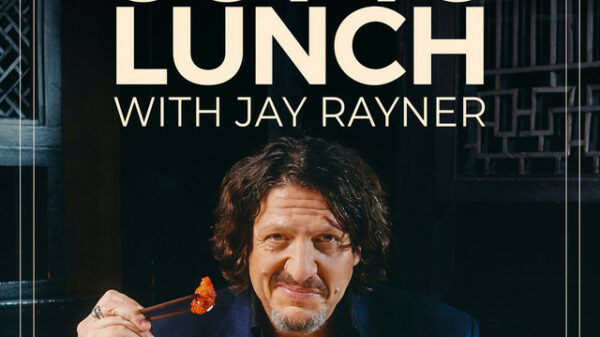 Food critic Jay Rayner is back wining and dining people in the public eye for the sake of good conversation. Always reliably entertaining, the series returned with Stephen Fry and the chat included being Jewish, therapy as recommended by John Cleese, and his time as a being famously celibate.
Other guests this month have included Bill Bailey, Lolly Adefope (Ghosts) and Rob Brydon.
Short History Of…
More McGann history lessons here, as Short History of… delivers the skinny on historical events in an easily digestible format. The subjects this month were The Suffragettes, The Watergate Scandal, Prohibition and The Knights Templar.
Film Stories with Simon Brew
In March, Film Stories looked at the marketing missteps, longshots and politiking that brought us the following movies: The Iron Giant, The A Team, Creed, The Postman, Last Action Hero, The Cannonball Run, The World Is Not Enough and the recent Oscar winner for Best Picture: Coda.
Additionally, there was an episode 'In Conversation with Simon Farnaby.' Ostensibly about his new film The Phantom of the Open, which sits on the intersection of his passions for golf and storytelling, the chat also took in Ghosts, Bill, Mindhorn and Paddington 2.
So, happy listening… and do let us know if you have any recommendations too.