Peter Capaldi made his debut as the Doctor in last year's Doctor Who Christmas special, ahead of his first full series in August 2014.
> Like our new Doctor Who page on Facebook for all the latest news on the show.
This news summary will be updated regularly as more details are revealed, with the latest updates at the top…
> Order Series 8 on DVD on Amazon.
> Order Series 8 on Blu-ray on Amazon.
Peter Capaldi: "I was very worried that we got it right between the Doctor and Clara. It's a very amusing and sometimes quite sad relationship…"
Peter Capaldi: "I just always feel slightly guilty that I'm allowed so much fun at this point in my life. It's very challenging, there's a lot of it to do, but it's the best gig in the world."
Peter Capaldi: "The nice thing is they don't have to talk to me very much about any backstory! I know where I am most of the time."
Jenna Coleman: "There's no one that can wind [Clara] up as much as this Doctor can, because he's just a loose cannon. He has this mad curiosity. No one else can wind her up quite like it – but she just loves him. The friendship is strange and charming."
Peter Capaldi: "You just bring yourself to it. That's all that actors do really, they just turn up and be themselves! I never think 'oh Matt did that' or 'David did that'. Sometimes there are consciously written in echoes of other Doctors and I love those."
Director Rachel Talalay: "He has very much found the character. He was constantly worried he had 11 Doctors he might be mimicking. I think he was truly challenged by that concept."
Peter Capaldi: "I don't expect to be anyone's heartthrob."
Peter Capaldi: "I don't know if people will like me or not; or if the show will be more successful or less successful. But no matter what happens, someone somewhere will love me – I'll be someone's Doctor. Even if everyone else hates me."
Mark Gatiss: "I've seen quite a bit of him and he's absolutely fantastic. Peter's just got this amazing, fierce, funny, slightly alarming quality to him – he reminds me a lot of Alastair Sim, actually … I think it's a terrific run of episodes."
Jenna Coleman: "The new Doctor is unapologetic and a lot less patient. He'll get the same job done, but he won't beat around the bush at all; he's straight to the point, he's direct, he hasn't got the patience of a human."
Peter Capaldi: "I think [Clara] finds it very difficult to deal with him. He doesn't really do much to change himself in order to make himself palatable for her, so she struggles a great deal to understand him and find a way to like him. He's not a walk in the park."
Jenna Coleman: "He's a lot fiercer, bolder, darker, but he's got this curiosity, this mad curiosity… He'll keep pushing the line further and further into danger to try and satisfy his curiosity, to try and find things out."
Director Ben Wheatley: "Capaldi's his own man but there are elements of Baker and Troughton and Pertwee. He's inherently funny but inherently brooding and complicated, as a performer and a man."
Peter Capaldi: "It can become a kind of franchise where it's not a real character at all, but just an amalgam of elements that people think are Doctor Who: a scarf, a bow tie… I wanted to be the actual Doctor Who."
Jenna Coleman: "With Matt's Doctor, [Clara] felt quite safe, really. She knew she'd be caught if she was in danger, but this guy is a lot less human-friendly and a lot less patient. He's more removed and inaccessible. You can't quite access him in the same way."
Peter Capaldi: "He's more alien than he's been for a while. He doesn't quite understand human beings or really care very much about their approval."
Peter Capaldi: "There'll be no flirting, that's for sure. It's not what this Doctor is concerned with."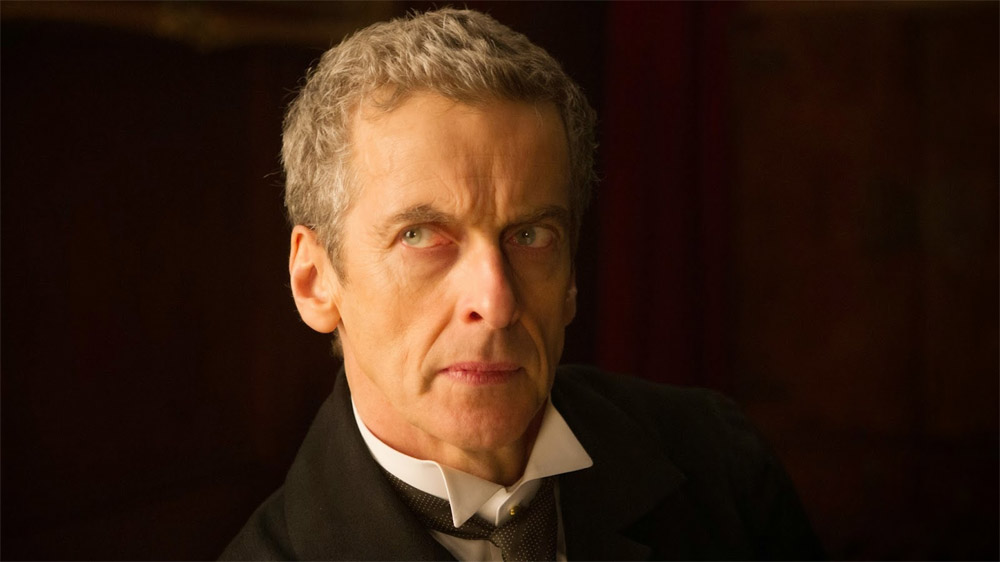 Steven Moffat: "He's not as immediately approachable and he's not necessarily looking for your approval. I would like to restore the sense that when he says 'Wait here, I'll be back' you really hope he'll be back, but you're not absolutely convinced…"
Steven Moffat: "From a Doctor [that Clara] could sort of control, because he had a crush on her, she's landed with a Doctor who barely registers that she's a girl. They're great friends and all that but she has to be his human interface with everybody else."
Jenna Coleman: "[The Twelfth Doctor] is a total adrenaline junkie."
Foxes: "I love [Peter Capaldi]. He's such a charmer. I was asked who I fancy between Matt [Smith] and him and I was like, 'Peter Capaldi!'"
Steven Moffat: "I always thought Matt, while a very young man, had something of the demeanour of a much older man, whereas Peter is a man in his 50s but is terribly boyish and young at times … Peter Capaldi's Doctor will sometimes remind me he's a big kid at heart."
Radio Times: "He is the oldest Doctor and there is a sense he is more distanced from his assistant, more of a mystery. He is perhaps less a mate, and someone [Clara] looks up to. She has to try and gauge him – but dramatically it's very satisfying and onscreen they work very well together."
Mark Gatiss: "There's madness in his eyes! He's just an amazing dramatic actor and a very funny actor – which is exactly what you want for the Doctor."
Steven Moffat: "There is something about [his] demeanour, his eyes, his attitude – he's tremendously bright and that comes out on screen."
Radio Times: "He is his own man – very distinctive."
Steven Moffat: "None of the Doctors are conventionally attractive, but they're all arresting. Handsome men don't quite suit. You need that oddity; you need somebody who is carved out of solid star, really."
Tom Riley: "Peter [Capaldi] is going to completely revitalise the show. He's going to bring something completely different to the Doctor. When you change the lead actor, everything's going to change."
Steven Moffat: "I mean watching him, and I just watched Episode 2 actually, you don't go around thinking this is an older bloke as the Doctor, particularly. But then I don't know if I ever thought Matt Smith was young? You just think my god, he's Scottish!"
Chris Addison: "I think they've all been great since it came back. But what I've really missed is the mercurial, unknowable, frightening side of the Doctor. And Peter will give it that, I bet you anything."
Steven Moffat: "Doomed dialogue doesn't half sound great in Scottish. You say the world's about to end in a Scottish accent, and you really believe it!"
Mark Gatiss: "I saw a little of Peter Capaldi in action and he is wonderful. I think it will be very exciting for everyone, because it is a more dangerous, more urgent Doctor. It has a side of crazy."
Paul McGann: "One thing that Capaldi does, and I know it might sound daft because there's lots of clever actors, but not that many who can act highly intelligent – he can. He can also be funny, but he can be scary while he's being funny and that might turn out to be the best combination of Doctor."
Steven Moffat: "I was watching [filming] this morning, and it's all the difference in the world, because suddenly he's a man in his 50s with gray hair — and it's no difference at all. It's weird."
Ben Wheatley: "[Capaldi is] a massive Who fan. He knows Who inside out. And everything he does is very carefully planned and thought about."
Steven Moffat: "Now we're going to give [Clara] a Doctor who's not like that at all, who's a much older, fiercer, madder, less reliable Doctor, who leads her a merry dance."
Peter Capaldi [on his costume]: "He's woven the future from the cloth of the past. Simple, stark, and back to basics. No frills, no scarf, no messing, just 100 per cent Rebel Time Lord."
Steven Moffat: "New Doctor, new era, and of course new clothes. Monsters of the universe, the vacation is over – Capaldi is suited and booted and coming to get you!"
Steven Moffat: "There would be little point in making as radical a change as we've made unless you're going to go quite different with the Doctor."
Steven Moffat: "Our vague idea is… the last two Doctors have been brilliant, and have been your 'good boyfriend' Doctors. But the Doctor isn't always like that. There is the sort of Tom Baker, Christopher Eccelston end of the spectrum, where he is mad and dangerous and difficult."
Steven Moffat: "In a world with which you are familiar [with Clara, Madame Vastra, Jenny and Strax all returning in Episode 1 of the new series], you can make the Doctor more of a stranger again."
Armando Iannucci: "I imagine [Peter Capaldi's Doctor] being quite charismatic and dramatic. And terrifying at some points. Peter can do that: he's got that air of authority but in person he's a very genial, amiable, funny guy. He's got that full range…"
17 December 2013: "Peter Capaldi has just completed his first read through as the Doctor!"
Steven Moffat: "Peter's quite vital. For a man in his mid 50s he's very wiry. I think the pace and the energy will come differently. The way I'm writing it at the moment I don't think there'll be any lack of vigour or attack in the new one. I mean, look at Jon Pertwee – quite a physical, lively Doctor, and he was older…"
Jenna Coleman: "It was kind of that moment 'of course, makes sense'. It's funny as I don't think he was one of the names that was originally being speculated about and it wasn't until the week before that his name came up. He's going to be so different to Matt [Smith] and take the show in an interesting direction."
Steven Moffat: "He's an older man in his 50s, but there's something very, very youthful and schoolboy-ish about him when you meet him, very enthused and twinkling. The other night he said to me 'Only 23 sleeps til I'm regenerating!'"
Steven Moffat: "He's one of the best actors in the country and is very beloved… And he's a huge fan of Doctor Who. So we asked and he was incredibly excited to come and audition. We didn't tell him that he was the only person auditioning because that would be oddly pressuring."
Peter Capaldi: "I'm 1,995 years too young to play him, really. So I think he's going to be quite happy to look his age."
Steven Moffat: "He's going to give us a whole new kind of Doctor. We've got used to two brilliant iterations of the younger, more popular Doctor and they have both been superlative, but now it's time for the old beast to snarl at you for a bit! Sometimes you see that a bit in Matt Smith's Doctor. He will remind the people around him, 'I'm not really like this.' But I think Peter's Doctor will make that even clearer."
BBC One Controller, Charlotte Moore: "[Peter Capaldi is] going to be a really fantastic Doctor. He's an extraordinary actor with amazing ability and just watching the first scenes come through… I'm very excited."
Steven Moffat: "…the energy and vitality that he brings to his performance, he works – he's like Matt [Smith] – he works, he's a worker. The man is not at all elderly in style, he leaps around the place probably more than any other Doctor in that first scene. But that's not how he's gonna play it, he's in a state of post-regeneration madness."
Steven Moffat: "We couldn't have had another quirky young man because Matt [Smith] had nailed the part. Peter's already a bit of a national treasure, an incredibly skilled, fine actor. As most people have realised, the moment you think of him in the part, you find it hard to think of anyone else."
Billie Piper: "I think it's brilliant [casting]. I've always really loved [Peter Capaldi] and admired him. I think he's a brilliant actor, I think he's both absolutely terrifying and credible with comedy. I really like the fact that he's a bit older and I think it will open a whole new set of fans. I think it makes absolute sense. It's a really wise choice."
Steven Moffat: "We are aware that Peter Capaldi's played a big old part in Doctor Who and Torchwood before and we are not going to ignore the fact. We'll play that one out over time. It's actually quite neat."
Armando Iannucci: "[Peter Capaldi] won't be Malcolm [Tucker, from The Thick of It] … I imagine there'll be lots of humour there, but he can also be powerful and tragic."
Steven Moffat: "I'd be very surprised if [Peter Capaldi's Doctor] didn't [have a Scottish accent]."
Steven Moffat: "[The Twelfth Doctor is] going to look like an older man. A fiercer man. He won't be the dashing young man he was a minute ago, and I think that'll be rather exciting…"
Neil Gaiman: "The idea of writing for Peter Capaldi's Doctor is one that I find so thrilling and exciting."
Peter Capaldi: "Being asked to play The Doctor is an amazing privilege. Like the Doctor himself I find myself in a state of utter terror and delight. I can't wait to get started."
Steven Moffat: "It's an incendiary combination: one of the most talented actors of his generation is about to play the best part on television. Peter Capaldi is in the TARDIS!"
Jenna Coleman: "I'm so excited Peter Capaldi is the man taking on the challenge of becoming the Twelfth Doctor. With Steven's writing and his talent I know we'll be making an amazing show with an incredible incarnation of number 12. I can't wait to start this new adventure!"
Ben Stephenson, Controller, BBC Drama Commissioning: "We started thinking Peter Capaldi might be the right person to take on this iconic part a few months ago. But it was only when he did a secret audition at Steven's house under the cover of darkness that we knew we had our man. He's an extraordinarily talented actor who can seemingly turn his hand to anything. We can't wait to premiere his unique take on the Doctor on Christmas Day and we are sure he's going to become one of the all-time classic Doctors."
Watch highlights from our Doctor Who 50th anniversary competition…
What are your hopes for Peter Capaldi's Doctor? Let us know below…