Welcome to the CultBox Podcast Roundup for June 2022. 
Our favourite podcasts this month in the worlds of film and television have included, in no particular order…
The Two Shot Podcast S10, Ep 1 – Emma Appleton
The ever fascinating Two Shot returns for its tenth series, kicking off with actress Emma Appleton (Pistol, The Witcher). The conversation talks about her career shift from modelling to acting, as well as working on drama Everything I Know About Love – which also features a certain Craig Parkinson too.
That Gaby Roslin Podcast – Craig Parkinson
Talking of Craig Parkinson, he's answering rather than asking questions for once as the guest of Gaby Roslin. Craig shares his delight at being cast as Doctor Who's Grand Serpent, a role apparently written for him. Plus there's the inevitable Line of Duty chat and the revelation that he'd love host a panel show.
Short History Of… and Real Dictators
Currently taking a break, Paul McGann's weekly Short History Of… began the month with the second part of its Jubilee special on Queen Elizabeth II.
Meanwhile, his other historical podcast Real Dictators has begun a four-part dive into the story of Cambodia and the rise of Pol Pot. It's compelling (and terrifying) listening, as ever.
WHO Corner to Corner #40 – Chat with Ella Road
A new one for us, although this pair of amiable enthusiasts have been podcasting together since October 2021. The informal chat is with playwright and screenwriter Ella Road, co-writer of 'Legend of the Sea Devils'. The interview ranges wider than just Doctor Who though and Ella Road is a particularly eloquent and insightful guest.
The podcast has also dropped episodes this month with Sophie Aldred and documentary maker (and Big Finish writer) Chris Chapman. Their back catalogue is worth a browse too, a mix of interviews and reviews.
Out to Lunch with Jay Rayner S7, Ep 17 – Adrian Dunbar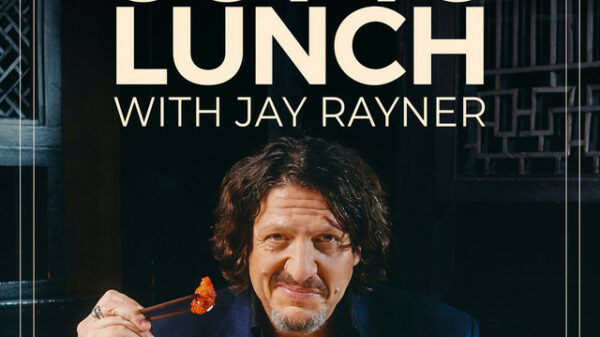 Rounding out his seventh season, Jay talks to Adrian Dunbar about music, Ted Hastings' political interventions and his role in the upcoming itv detective show Ridley. It's another great chat with Jay, which also takes in Steven Spielberg, curries with the Line of Duty gang and an upcoming project with Irvine Welsh.
There were also lunches with Dame Shelia Hancock and Joanna Scanlan this month too!
Film Stories with Simon Brew
This month, Film Stories looked at the tales behind Trainspotting, Days of Thunder, The Irishman, Kevin Smith's Zack and Miri Make a Porno and the original Robocop. Host Simon Brew also tackled three comedy sequels which made waves in different ways Ace Ventura: When Nature Calls, Austin Powers: The Spy Who Shagged Me and American Pie 2.
Plus, there's extras this month too: Off the back of directing the first two episodes of Paramount+'s new behind-the-scenes of The Godfather drama The Offer, Simon talks to director Dexter Fletcher. The conversation takes in his work on various musical biographies, Eddie the Eagle and more. There's also a special episode in the feed with Jurassic Park: Dominion's director Colin Trevorrow too.
So, happy listening… and do let us know if you have any recommendations too.