New information about the ninth episode of Doctor Who Series 10 is officially released. The ninth episode is titled It Takes You Away.
On the edge of a Norwegian fjord, in the present day, The Doctor, Ryan, Graham and Yaz discover a boarded-up cottage and a girl named Hanne in need of their help. What has happened here? What monster lurks in the woods around the cottage – and beyond?

Written by Ed Hime. Directed by Jamie Childs.
Eleanor (Ellie) Wallwork: Hanne
Kevin Eldon: Ribbons
Lisa Stokke: Trine
Christian Rubeck: Erik
Writer Ed Hime told Doctor Who Magazine:
"A sense [of isolation and sparseness,] that the characters were stuck in a place that was unreachable. Civilisation is a long way away, and there might be danger lurking wherever you look."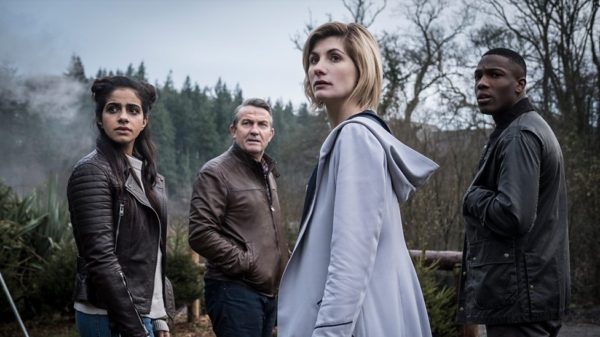 The episode tells the story of Hanne's predicament – and the journey undertaken by the Doctor and friends in an effort to help her.
Hanne, a Blind Teenage Girl
Eleanor (Ellie) Wallwork is the young blind actress Cultbox previously mentioned.
Hi 🙂 pic.twitter.com/WYpSD3XxmG

— Ellie Wallwork (@EllieWallwork4) December 22, 2017
Ellie Wallwork described her "amazing" experience to the RNC:
"Earlier in the year, a casting call came for a blind teenager to play a character in Doctor Who. I went along and I got the role. I can't say too much or give any spoilers, but it's been an amazing experience working with stars like Jodie Whittaker and Bradley Walsh, they were all really nice and the crew were all really helpful."
Wallwork has previously appeared on television in Call the Midwife and in a film called Imagine. She has her own website. Wallwork is a singer and songwriter as well as an actress.
Ribbons
Kevin Eldon plays Ribbons. Chris Chibnall teased "Ribbons" in an interview published in Big Issue North. Who/what is ribbons? The answer might be in an Instagram post deleted by an extremely tall creature actor.
Paul Sturgess, the tallest man in Britain, posted a photo of himself  as a monster with very mole-like head with no eyes and a long, tubular snout. The monster's hands are white with long fingers and claws. Sturgess claims his scenes didn't make the final cut.
Don't worry guys, no spoilers here. I only posted the photos because was informed my character didn't make final cut

— Paul Sturgess (@paulsturgess_) October 12, 2018
However, Sturgess is pictured with a fellow creature actor dressed in leather and resembling a goblin with pointed ears. Perhaps this is Ribbons. The other creature actor appears comparatively smaller but keep in mind Sturgess' seven-foot, seven-inch frame. Kevin Eldon is five feet, ten inches.
In any case, Kevin Eldon was curiously not featured in the Series 11 guest star trailer and the official episode description mentions a monster.
Trine
In addition to Ellie Wallwork and Kevin Eldon, Lisa Stokke, an actress with dual American/Norwegian citizenship, was previously discovered with a Doctor Who credit on her Spotlight CV which lists her as portraying Trine in an episode directed by Jamie Childs.
#DoctorWho casting info: Lisa Stokke plays Trine in a Jamie Childs episode pic.twitter.com/BmqWHGaBwH

— Ruther (@Ruther2) September 8, 2018
Stokke was in Cardiff, where the studio scenes for Doctor Who are filmed on December 6, during the second of Jamie Childs' filming blocks.
Dressed in an extravagant, colorful knit top with a geometric design and yellow fringe on the sleeves and across the chest, Stokke exclaimed:
"I look like I'm wearing a #piñata and I LOVE IT!!!! So happy to be here in #Cardiff and working on a dream job for a few days."
It's OFFICIAL BABY!!! I can FINALLY reveal that I'm starring as Trine in Episode 9 (next Sunday) of Doctor Who, EEEEEK!!! I'm not on until towards the end so be patient.
Ive waited a year to… https://t.co/AKQILQ4Ymx

— ❄️Lisa Stokke❄️ (@lisastokke) November 25, 2018
Erik
Erik is played by another Norwegian actor, Christian Rubeck.
Christian Rubeck quel homme pic.twitter.com/gfRGrFw4tP

— t a n u k i新 ドラゴン (@AreKusato) September 1, 2017
It Takes You Away airs on Sunday, December 2 at 6:30 p.m. on BBC One and 8:00 p.m. on BBC America.