A cast list was released for Village of the Angels, the fourth chapter of Doctor Who: Flux.
Devon, November 1967. A little girl has gone missing. Professor Eustacius Jericho is conducting psychic experiments. In the village graveyard, there is one gravestone too many. Why is Medderton known as "The Cursed Village" and what do the Weeping Angels want?
In addition to the main cast, Jodie Whittaker (the Doctor), Mandip Gill (Yasmin Khan) and John Bishop (Dan Lewis), the following actors are cast in Village of the Angels.
Annabel Scholey
Scholey plays Claire Brown, a woman familiar with the Weeping Angels who has fateful encounter with one in The Halloween Apocalypse.

Kevin McNally
McNally plays Professor Jericho, who is conducting psychic experiments.

Penelope Ann McGhie
McGhie Plays Mrs. Hayward, likely a resident of Medderton.

Alex Frost
Frost plays Reverend Shaw, likely a resident of Medderton.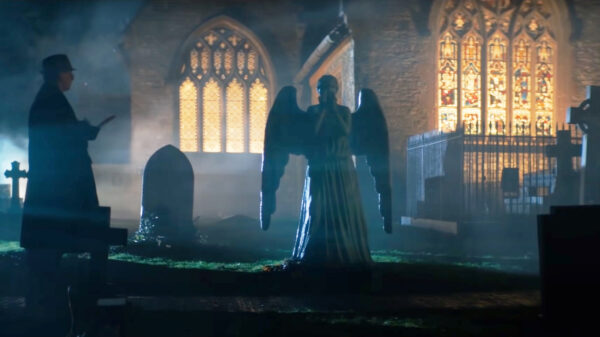 Jemma Churchill
Churchill plays Jean.

Vincent Brimble
Brimble plays Gerald. He previously played Tarpok in the Doctor Who Season 21 story Warriors of the Deep.

Poppy Polivnick
Polivnick plays Peggy. She also starred in the short film Beast with Billie Piper. There is no photo of her Village of the Angels character. She is possibly playing the little girl who went missing in 1967 Medderton.

Barbara Fadden, Isla Moody, Lowri Brown
These three actresses play Weeping Angels.

Jacob Anderson
Anderson plays Vinder, the displaced keeper of the destroyed Observation Post Rose.

Thaddea Graham
Graham plays Bel, a character first seen in Once, Upon Time.

Blake Harrison
Harrison plays Namaca.

Rochenda Sandall
Sandall plays Ravager Azure. Sam Spruell, who plays fellow Ravager Swarm is not on the cast list – which might not be fully revealed.

Jonny Mathers
Mathers plays Passenger, last seen in War of the Sontarans and Once, Upon Time.

Village of the Angels was filmed on location in Penarth Wales, Knapp Beach in Barry Wales, Friars Point in Barry and Saint Hilary, Vale of Glamorgan Wales,
Written by Maxine Alderton and Chris Chibnall and directed by Jamie Magnus Stone, Village of the Angels, the fourth chapter of Doctor Who: Flux, will premiere Sunday, 21 November, at 6:20pm BT on BBC One and at 8:00pm ET on BBC America.