The sixth and last chapter of the Doctor Who: Flux series is titled The Vanquishers.
In the final epic chapter in the story of the Flux, all hope is lost. The forces of darkness are in control. But when the monsters have won, who can you count upon to save the universe?
This episode, expected to tie up the threads of multiple characters introduced in the previous five chapters of Doctor Who: Flux, has a large cast list.
As expected, Jodie Whitaker (The Doctor), Mandip Gill (Yaz) and John Bishop (Dan) are on the cast list for The Vanquishers and there are some clues in the guest cast.
Kevin McNally
McNally plays Professor Eustacius Jericho, who conducts psychic experiments in Village of the Angels.

Sam Spruell and Rochenda Sandall
Spruell and Sandall play the chaos-savoring Ravagers Swarm and Azure.
They were spotted filming with Jodie Whittaker and another actor outside the Welsh Government Offices in Cardiff on 24 April, 2021. According to production designer Dafydd Shurmer in Doctor Who Magazine, the Welsh Government Offices were chosen to depict the exterior of the Temple of Atropos.
NEW DOCTOR WHO SERIES 13 FILMING PICTURES TAKEN THIS MORNING! (Closer look from rory_studies on Instagram!) #doctorwho #dwsr #doctorwhonews pic.twitter.com/Q4nYs6b81C

— Joe Street (Confused Adipose) (@Joe_Street00937) April 24, 2021
Jonny Mathers
Mathers plays Passenger, a living container with endless space for prisoners to occupy. Diane Curtis and now Vinder are imprisoned inside Passenger.

Nadia Albina
Albina plays Diane Curtis. Azure captured Diane as she waited for Dan and imprisoned her inside Passenger.

Craig Parkinson
Parkinson plays the treacherous Grand Serpent, a character of considerable power and influence.

Thaddea Graham and Jacob Anderson
Graham and Anderson play Bel and Vinder, maverick hotshot fighters who are in love and searching for each other.

Steve Oram
Oram plays 19th century tunnel builder Joseph Williamson (right), whose tunnels under the Edge Hill section of Liverpool have a part to play in Doctor Who: Flux. Williamson was last seen in Survivors of the Flux.

Jemma Regrave
Omitted from the released cast lists but present in The Vanquishers trailer is Redgrave as Kate Lethbridge-Stewart, Chief Scientific Officer at UNIT.

Craige Els
Els plays Karvanista, the dog-faced Lupari and Division agent charged with protecting Dan Lewis.

Jonathan Watson and Dan Starky
Watson plays Sontaran Commander Stenk and Starkey plays Sontarans Sentarg, Shallo and Kragar. Watson and Starkey also played Sontarans (a cloned species) in previous chapters of Doctor Who: Flux. Their The Vanquishers characters are not pictured.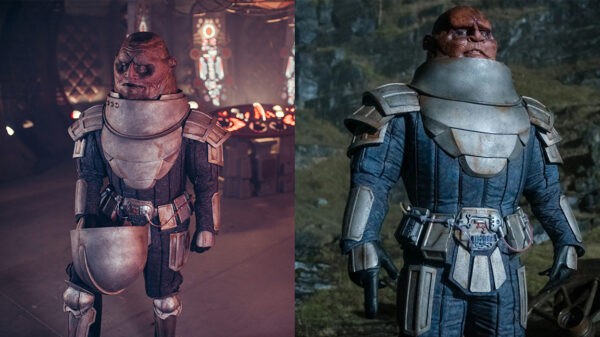 Annabel Scholey
Scholey plays Claire Brown, a woman who encounters Weeping Angels in The Halloween Apocalypse and Village of the Angels.

Sonny Walker
Walker plays a Scouser, a native of Liverpool.

Silas Carson
Carson voices the Ood.

Simon Carew
Carew plays an Ood. He has played multiple Doctor Who creatures and characters.

Nicholas Briggs
Briggs has voiced many Doctor Who creatures, but mostly Daleks and Cybermen.

Written by Chris Chibnall and directed by Azhur Saleem, The Vanquishers, the 59-minute sixth and final chapter of Doctor Who: Flux, will premiere Sunday, 5 December, at 6:20pm BT on BBC One and at 8:00pm ET on BBC America.