A video Doctor Who panel from San Diego Comic-Con @ Home, pre-recorded during a filming day in Cardiff and hosted by Melanie McFarland, featured showrunner Chris Chibnall and cast members Jodie Whittaker, Mandip Gill and John Bishop. The panel introduced special guest Game of Thrones star Jacob Anderson as a Doctor Who Series 13 cast member.
Anderson will play a character named Vinder in the series.  We previously reported that Jacob Anderson was spotted filming Doctor Who on location with Mandip Gill at Cardiff City Hall on March 8.
"We have a number of amazing guest actors joining us across the series and quite a few of them recur across multiple episodes which is very unusual for this show," Chris Chibnall revealed.
"Other than that, I'm not going to tell you anything about them, to be honest — maybe there's one we can talk about."
With that cue, Jacob Anderson joined the panel via a pre-recorded video message.
"I very excited to be joining Doctor Who Season 13 later this year," Jacob Anderson exclaimed. "And I get to play one of my favourite people I've ever played — Vinder. This is a real-life childhood dream to be a part of Doctor Who."
Not much is known about Vinder but he is a space traveller.
"…I've got my own ship! And my own ship had its own world of buttons and levers and switches that you can actually press!"
"I was thinking about this character and he was the first name who came to mind," Chibnall said of Anderson. "I sort of wrote it for him and then pitched it to him, you know, begged him and then sent it to him and talked to him a lot. He has that humanity, that warmth, but he can also play an action hero. He makes you root for him and he breaks your heart."
Mandip Gill revealed that Vinder is one of the recurring characters and other statements by the various panellists indicated that there is a scene where the Doctor, Yaz, Dan and Vinder must confront an unidentified foe.
Two promotional photos were released for the series featuring Mandip Gill (Yaz), Jodie Whittaker (the Doctor), John Bishop (Dan) and Jacob Anderson (Vinder).
Host Melanie McFarland described Doctor Who Series 13 as "totally unlike anything we've ever seen before — and when I say that, I'm not kidding."
"I can tell you that we pick it up with the Doctor and Yaz, who have been travelling together for some time," Chris Chibnall explained when asked about Series 13.
"And we come in and meet them mid-adventure and then they stumble across a man called Dan Lewis," Chibnall further revealed.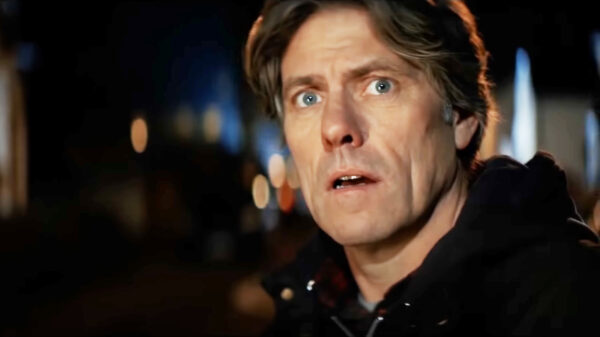 This is the first mention of John Bishop's character's last name. The character had previously been identified only as Dan.
"It was an interesting process because Chris (Chibnall) met me pre-pandemic and said, 'We have a character I think you might be good for. Would you be interested?' and I was very keen, very interested, but I had already committed to doing a tour," John Bishop explained. "So we just couldn't make the dates work because I was meant to be on tour so unfortunately I had to say, 'No'. And then fate and a global pandemic intervened and then I phoned Chris up and said, 'Does it still work?' and fortunately for me, they said, 'Yes.'"
"I had to do my first audition on Zoom," the comedian further revealed. "And then I had to come and have a day in Cardiff with Jodie (Whittaker) on the set, which was quite awe-inspiring, to see if it worked and if there was a gel, but also how it all looked on camera."
"Our first week filming was all in the TARDIS," Bishop further revealed.
"The big thing that we're going to be doing this year is it's all one story so every episode is a chapter in a bigger story. So we've changed the shape of the series for this year," Chibnall explained.
"I think it's definitely the most ambitious thing we've done since we've been on the series…," the showrunner remarked.
Another thing learned from the panel is that all eight Series 13 episodes end on a cliffhanger.
When asked to give one word to describe Series 13, Gill said "riveting," Bishop said "inspirational," Whittaker said "mysterious" and showrunner Chibnall enigmatically added "swarm."
A Doctor Who Series 13 teaser trailer was released at the very end of the panel. The premiere date was not revealed at the end of the trailer but the series will air in autumn of this year, according to John Bishop.
Here are a few stills from the trailer:
"Get inside!"
"I'm the Doctor. This is Yaz. This is Dan."
"You're hiding something"

"Any questions? No? See you soon!"

This could be one of the rumoured Time Windows.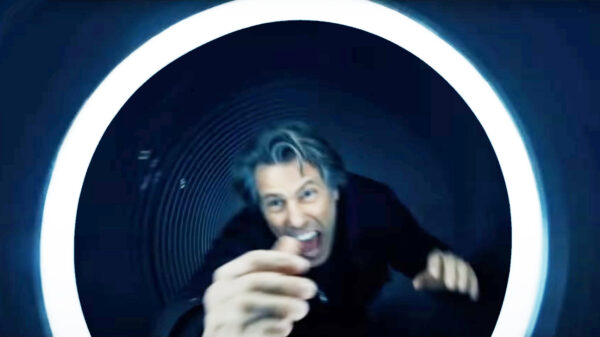 Dan falls attached to a rope. Yaz greets him casually, ignoring his plight, as she studies something while in period costume. Yaz wears this outfit in an episode featuring Kevin McNally.
Dan can't seem to catch a break. This time Dan and Yaz have odd, breath-holding expressions on their faces.
An alien planet with spaceships.
Some outdoor scenes.
Sara Powell plays Crimean War nurse Mary Seacole in an early episode which also features Sontarans, likely Episode 2.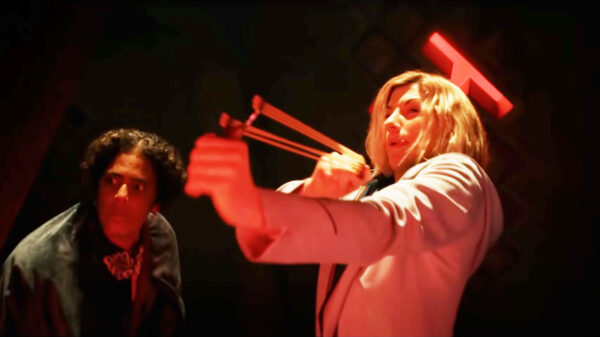 A glimpse of the Time Vortex.
A close-up to the Doctor's eyes.
Doctor Who Series 13 will consist of six episodes of a single story with cliffhangers. The series is scheduled to air in autumn of 2021.
There will be three additional specials in 2022, airing on New Year's Day, spring, and a BBC Centenary special in Autumn which will be the last for Jodie Whittaker's thirteenth Doctor.