The synopsis of a Doctor Who graphic novel starring Captain Jack Harkness scheduled to be released November 16, 2021 reveals the novel to be a tie-in with Episode 2 of the upcoming Doctor Who Series 13, also scheduled to air toward the end of 2021.
The graphic novel, written by Jody Houser and illustrated by Roberta Ingranata, is currently referred to as 'Doctor Who 2021 Event.'
The synopsis of the Titan release, found on the Penguin Random House website, is as follows:
A thrilling new Doctor Who Graphic Novel which stars fan-favorite Captain Jack Harkness as he goes up against the insidious Torchwood institute!
In the midst of kicking alien butt – and looking good doing it – Captain Jack Harkness is suddenly transported through a time-window to 19th Century Cardiff… again!
Realising there's more than one thing afoot, he sets out to uncover what the Victorian-era Torchwood Institute team are up to behind closed doors, hoping to solve the mystery of why time-windows are cropping up everywhere. But what he finds is very unexpected, and will certainly leave him needing a hand from some old friends…
Bursting straight out of the long-running hit television series, this bold new tale ties-in directly with episode two of the hotly-anticipated series 13.
Buy it, read it, then travel back in time to read it for the first time all over again…!
The synopsis of Episode 2 of Doctor Who Series 13 is not yet known. Filming for Series 13 began in November of 2020 and both Sontarans and Weeping Angels have been spotted during early filming. A Crimean War setting with Sontarans was filmed in November at Morlais Quarry in Merthyr Tydfil in South Wales on November 18, 2020. The Crimean War was fought early in the Victorian era mentioned in the graphic novel's synopsis.
At this time, it's impossible to discern which events described the novel's synopsis tie in with Doctor Who Series 13 – or even if Captain Jack and/or the Torchwood Institute will make a Series 13 appearance.
To the delight of fans, John Barrowman made a surprise appearance as Captain Jack in the Doctor Who Series 12 episode Fugitive of the Judoon and later in the 2021 New Year's special Revolution of the Daleks.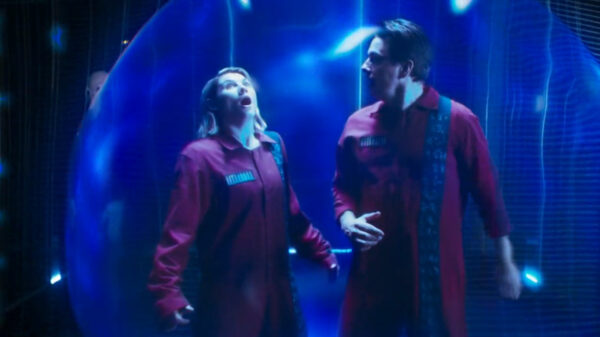 It was known to fans that Barrowman was in Cardiff where Doctor Who is filmed at Roath Lock Studios during the time Series 12 was filming, but his social media posts indicated that he was there to renovate his Cardiff property.
Barrowman was also staying at his property in Cardiff during Doctor Who Series 13 filming from January through March 2021 while he filmed his role as host of Dancing on Ice at a studio in Hertfordshire.
View this post on Instagram
So we have Captain Jack, Torchwood, "old friends", aliens, time-windows, 19th Century Cardiff and the Victorian era; all in a graphic novel which is somehow tied to Episode 2 of Doctor Who Series 13.
But which elements of the novel tie in to the episode? As we learn more about Series 13 and Episode 2 in the coming months before it airs, there should be more clues.
One big clue we should not miss is that Episode 2 of Doctor Who Series 13 will need to air before November 16, 2021 if there are not to be any spoilers in the graphic novel tie-in, which gives fans a greater idea of when the series will premiere.
Eight episodes are planned for Doctor Who Series 13 with the filming continuing into July. The clip which introduced John Bishop as companion Dan revealed the series is scheduled to air sometime in 2021.