With Big Finish's Doctor Who remit recently expanded to cover new series material there are plenty of treats instore, including 'The Diary of River Song' and the War Doctor, and fresh adventures for the Tenth Doctor and Donna.
In fact, the fun kicks off with this month's UNIT: Extinction, starring Kate Stewart and Osgood.
The first crossover of old and new teams however, teams Strax the Sontaran butler with those investigators of infernal incidents, Jago & Litefoot. First thrown together in the classic Tom Baker tale 'The Talons of Weng-Chiang', the mismatched pair – a Theatre Impresario and a Police Pathologist – were revived on audio in 2009 and have recently enjoyed their tenth box set of adventures.
It is a lovely notion that these London based, Victorian-era associates of the Doctor should cross paths given the nature of their work and 'The Haunting' finds both parties looking into the same mystery; Jago and Litefoot investigating a series of corpses with their brains removed, while Strax is on the trail of an alien power source and finds himself in the bar of the Red Tavern.
To be honest, the crux of the tale is fairly straightforward and echoes a couple of new series stories. However, what it lacks in complexity it makes up for with character fun; there is much mirth at Strax's failure to understand the social niceties and distinguish between human genders, as well as his shoot-first attitude which is entirely at odds with the way Jago & Litefoot operate.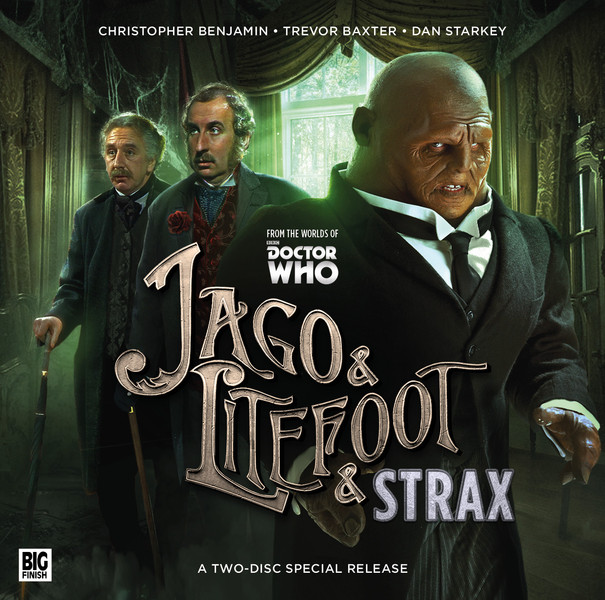 Plenty of comedy is mined too from the decision to have Strax mistake the pair for Madame Vastra and Jenny Flint, thanks to the effect of an alien weapon. Apparently the suggestion of Steven Moffat, it does neatly explain why he does not simply return to Paternoster Row for backup.
While Strax might be a guest in this setup, actor Dan Starkey is a Big Finish regular these days, with credits in their Doctor Who, The Avengers and Blakes' 7 ranges, as well as Jago & Lifefoot Season 9.
In the supporting cast, regulars Ellie the barmaid (director Lisa Bowerman) and Inspector Quick (Conrad Asquith) reprise their roles, and Stephen Critchlow amuses as Marvo the Magician, an ill-fated turn at Jago's theatre. The villain of the piece, whose involvement seems to have been kept under wraps, is also a genre favourite who puts in a sterling performance.
Fans of Jago and Litefoot should not be disappointed, as the pair deal with their Sontaran interloper with their customary mux of unflappable manners and blustery charm. This is a pleasing interlude while we wait for Season 11, especially given the terrific cliffhanger we were left with.
Extras: The release comes with over 15 minutes of interviews the cast and crew.

Released on Wednesday 11 November 2015 by Big Finish.
> Follow Ian McArdell on Twitter.
What did you think of the story? Let us know below…