There are several clues that Ryan Sinclair, played by Tosin Cole, will be reunited with his father in the the Doctor Who New Year's special, Resolution.
Ryan's father Aaron is likely played by Daniel Adegboyega in the special.
A character with the last name Sinclair was discovered on Adegboyega's CV.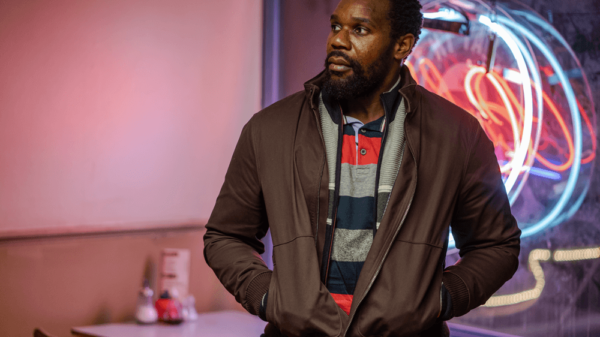 Ryan's father failed to attend the funeral for Ryan's grandmother Grace, his own mother, in The Woman Who Fell to Earth, an action which disappointed but didn't surprise Ryan.
Some of the backstory was provided by Ryan's dialogue in Arachnids in the UK.
"I read the letter… from my dad. He said he's sorry for not being there for me for us, for Nan."

"He wants us to reconnect. Says that I can live with him now, being that he's my proper family.

"I don't like that he put that. 'Proper family.' He's not proper."
And in a later episode, The Tsuranga Conundrum.
"[The last time I saw my dad was a] year ago. Didn't go well. Got angry with him."

"He ducked out when I needed him. He's like a gap in my life. Even at Nan's funeral."

"[My mum died] washing up in the kitchen. Massive heart attack. Just – Just out on the floor."

"[I found her. I was] thirteen."

"I never knew life threw that sort of stuff at you. I never knew that when it does, sometimes adults don't cope either."

"[My dad] loved her too. People always said that I looked like her. He must've found that hard."
Tosin Cole commented about what happens with Ryan in Resolution to TV Choice magazine.
"It's going to be a very heartfelt episode for [Ryan], and an emotional journey. Basically, all the things that he was going through at the beginning of the series are rushing back, and we see how he deals with that."
Written by Chris Chibnall and directed by Wayne Yip, Resolution airs on Tuesday, January 1 at 7:00 p.m. on BBC One, and 8:00 p.m. on BBC America.