Daredevil, Jessica Jones, Luke Cage, Iron Fist and The Punisher have all appeared on the streamer today. 
Last month, there was dismay as Netflix removed all Marvel's "The Defenders" shows from its service. Despite a fruitful partnership, beginning with Daredevil in 2015 and ostensibly taking place within the MCU, the Marvel/Netflix deal dried up in 2019, with all the shows produced under the partnership cancelled. Then, at the start of this month, contracts finally expired and all that lovely superhero programming disappeared.
That was the bad news. Today however, all of the shows have popped back up on Disney+ under the umbrella title "The Defenders Saga". Whether that leads to a revival for any of the heroes remains to be seen…
So, what's arrived we hear you ask?
Daredevil
Blot all thoughts of Ben Affleck's 2003 movie from your mind. This version of Daredevil stars Charlie Cox as the blind legal eagle who fights crime by night.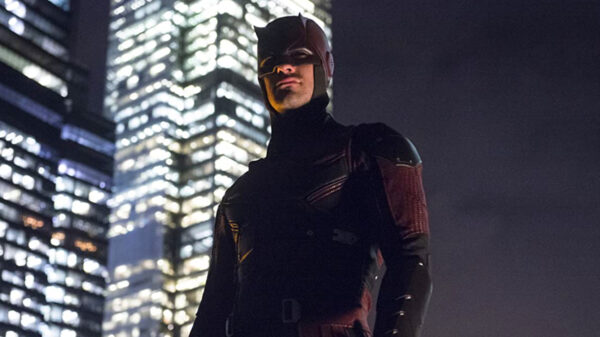 Joining Cox in the show are Deborah Ann Woll as Karen Page, Elden Henson as Franklin "Foggy" Nelson – Murdoch's best pal and sidekick, and Rosario Dawson (Ahsoka) as Claire Temple. Villains include Vincent D'Onofrio as Wilson Fisk aka Kingpin, who recently reprised the role in Hawkeye. Also along for the ride is Jon Bernthal's Frank Castle, aka The Punisher (who subsequently spins off into his own show).
There are three series of Daredevil, each with 13 episodes. And, of course, there's much speculation that Cox will reprise the character again in the MCU soon, after he popped up in Spider-Man: No Way Home.
Jessica Jones
The second up is Jessica Jones, starring Krysten Ritter in the lead role. Jones begins the series as a washed up, former superhero whose working as a private detective. She's scarred by an encounter in her past with the mind-manipulating villain Kilgrave, chillingly played by David Tennant, but is forced to combat him again.
Joining Ritter and Tennant in the show are Mike Colter as Luke Cage, who spins out into his own show, Rachael Taylor as Patricia "Trish" Walker and Carrie-Anne Moss (The Matrix) as Jeri Hogarth. Additionally, the first season sees an early role for Erin Moriarty (The Boys).
There are three seasons of Jessica Jones too, each with 13 episodes.
Luke Cage
Across two seasons of his own show, Mike Colter's Luke Cage is the man with unbreakable skin. He lives in Harlem, first as a fugitive and then as a hero and celebrity. Mahershala Ali (recently cast as Marvel's new Blade) also stars as Cornell "Cottonmouth" Stokes.
In the show, Simone Missick appears as NVPD Detective Mercedes "Misty" Knight, with Alfre Woodard as Mariah Stokes-Dillard. Rosario Dawson also appears again as Claire Temple.
There are 26 episodes of Luke Cage.
Iron Fist
Starring Finn Jones as Danny Rand, Iron Fist chronicles the story of a martial arts expert who has the ability to call upon mystical powers.
Jessica Henwick stars as Colleen Wing, as does Sacha Dhawan as Davos. The ever present Clare Temple (Rosario Dawson) also appears, along with Simone Missick's Misty Knight (from Luke Cage) too.
There are two seasons of Iron Fist, with 23 episodes in total.
The Defenders
The stories of the four heroes above come together for a crossover show, The Defenders.
Featuring a number of allies from their respective shows, the quartet are up against a criminal organisation known as "The Hand". Sigourney Weaver stars as the principal villain.
The Defenders is an eight part mini-series, set a few months after the first season of Iron Fist.
The Punisher
Finally, the other series to arrive is The Punisher. Following Jon Bernthal's Frank Castle, the show sees the former Marine out for revenge on the people responsible for the death of his family.
It also stars Ebon Moss-Bachrach as David Lieberman / Micro, Ben Barnes as Billy Russo / Jigsaw, Castle's former best friend turned villain, and Supergirl's Floriana Lima. Crossing over from Daredevil is Deborah Ann Woll as Karen Page, Matt Murdoch's former assistant.
There are two series of The Punisher too, so that's another 26 episodes to watch.
That's a whole heap of stories (161 episodes) to catch up on if you've not had the pleasure. It's recommended that you watch the shows in release order to follow the characters from one show to another… Total Film have a handy rundown if you're unsure.
Enjoy!